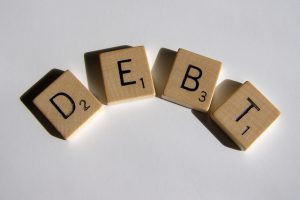 Good morning Dinks.  Nick and I have been in our new apartment for almost a month and although we still have some furniture to buy and some boxes to unpack we are slowly but surely getting settled into our new space.
I have advocated many times here on Dinks Finance that I am not a fan of debt because I will be forever scared by my past money troubles.  Now at 34 years old I'm in $5000 of debt again but surprisingly I'm not freaking out.  I did have a pain in my gut just before I signed for the financing but now I'm totally OK with it.  Why? Because this time it's different.
This time I have a plan
We decided to finance our new furniture with two different companies and pay for our other apartment must haves with the savings we've been accumulating since May.  I'm not freaking out about my debt this time because there is a definitive start and stop date.
This debt is not going to be an ongoing thing.  I set up payments on both furniture accounts to have the debt completely paid off by April 30, 2015.  It could have been a lot faster but we have Nick's birthday and Christmas during that time so we will need some extra cash to celebrate.  I didn't want to spend all my income paying off debt then using credit to live until my next paycheck – that's a mistake you only make once.
The debt is for a good reason
Our old apartment was less than shall we say perfect.  We moved there in 2008 after the market crash and we didn't buy any new furniture at the time due to our limited budget.  So this time when we moved we wanted to do it right with a bigger apartment in a better location and with all new furniture.
With our recent move our lifestyle got a whole lot better.  Our living space more than doubled; we knew we would have to buy new furniture as well as functional items for our new apartment such as lamps and desks etc.  We also have new appliances in our new apartment so we had to buy supplies for the washer and dryer as well as the dishwasher.  It doesn't make sense to use the good stuff when you share laundry with 21 other floors of tenants, but now that we have our own laundry in our new apartment we can splurge a bit for laundry supplies.
This time I have something to show for my debt
This time our debt is actually for something – new furniture.  This time I have something to show for my debt – a gorgeous new apartment.  My biggest debt mistake in the past was living off credit to finance my lifestyle.  It was continuous spending on clothes and vacations as well as at restaurants and concerts.  If I wanted something I would whip out my credit card and pay for it.  Not this time.  This time I have fixed financing through a store, no credit cards and no revolving credit – unless I want to buy something else at that same store.  This time my debt is controlled and that's why I feel good about it.
Photo from Flickr
Get Your FREE Ebook
DINKS (Dual Income No Kids) Finance focuses on personal finance for couples. While by no means financial experts, we strive to provide readers with new, innovative ways of thinking about finance. Sign up now to get our ebook, "Making Money Tips for Couples" FREE.