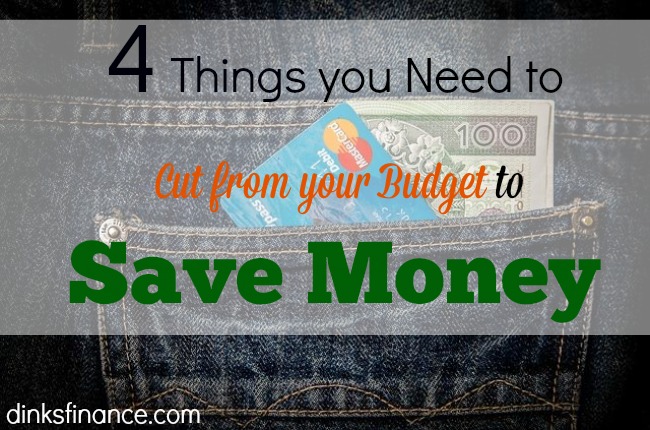 Good morning Dinks. Think about your spending over the last week or so; are there things that you could have lived without?  I am sure the answer for most of us is YES.  Sometimes I spend money just because I have it, but that doesn't necessarily mean I should be spending it.
I personally don't want to live in a world where I save every single penny I earn and I don't want to live in a world where I don't spend any money on myself because in my opinion that's not a life worth living.  I enjoy spending my money, but at the same time I save for the short term and for retirement because I don't want to be forced to use credit in case of an emergency and I definitely want to retire some day.
What could you cut out of your weekly budget?
1. Bottled water.  I absolutely love bottled water, but my boyfriend Nick is really into saving the planet so unfortunately this was a luxury that I cut out of my weekly spending.  When cases of water go on sale we can buy 24 bottles for only $3 and since I change the water bottle twice every week a case of 24 bottles can last for 3 months.  However Nick doesn't like buying bottled water so I bought a reusable Brita bottle.  I paid a one-time $9 cost and saved a fortune on bottled water.
2. Starbucks.  I am not a huge coffee drinker, but when the weather gets cold I love a good Pumpkin Spice Latte or Caramel Macchiato.  I limit myself to Starbucks once a week – if I feel like it.  I would love to be able to afford to drink Starbucks every single day, but I can't so $5 once a week fits perfectly into my budget. Savouring and saving for my Starbucks visits makes me appreciate my Starbucks moments even that much more.
3. Drinks and smoking.  I don't do either and I really hate it when people complain about not having any money then they light up a cigarette, it's absolutely my pet peeve. If you buy one pack of cigarettes per week for $8 it adds up to over $400 a year.  If you smoke a pack of cigarettes a day it adds up to almost $3000 a year.  I am sure we can all agree this is money that can be better spent.
4. Public transportation.  I personally hate taking public transportation because people have germs and I am not a big fan of crowded spaces.  However during the cold, snowy winter months up here in the Northeast I take public transportation – I don't like it, but it's better than catching a cold or walking home in a snow storm.  I live approximately 30 minutes from my office so walking to and from work at minus 40 is just not an option.  Walking helps me relax after work and decompress before I get home.  It's also a great opportunity to run some errands on my way home.
Photo by dannyman
Get Your FREE Ebook
DINKS (Dual Income No Kids) Finance focuses on personal finance for couples. While by no means financial experts, we strive to provide readers with new, innovative ways of thinking about finance. Sign up now to get our ebook, "Making Money Tips for Couples" FREE.