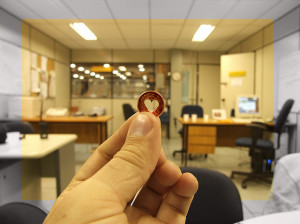 Good morning Dinks.  According the popular bestselling book men and women are from different planets.  It's true that we are completely different creatures who have to coexist in the human race.  Some may say we complete each other because opposites attract.  Some others say that the secret to a great relationship is compromise.  As one half of a couple I have to wonder which one is true – is being in a relationship a perfect match or is it a wonderful compromise?
How often do you compromise in your relationship?
Nick and I grew up together, we started dating at 19 and later this year I'm turning 34 and he's turning 35.  My, my how time flies.  We each have our own likes and dislikes that developed over the years and I have to tell you there's not a lot of compromise in our relationship when it comes to activities.  If we both want to see a movie or take a trip then we do it together, otherwise each of us kind of does our own thing.
My friends think it's weird that we don't spend all our time together, but I think it's unfair to force my boyfriend into doing something he doesn't want to do and I am sure he feels the same way.  If he doesn't want to go on vacation, it won't stop me from booking my trip and going alone.  If he wants to spend his evening watching yet another super hero movie he can definitely go with his friends.  Although I am looking forward to watching Teenage Mutant Ninja Turtles and the next Avengers movie.
There has to be common ground when it comes to money
The one place in our relationship where we do always have to see eye to eye is when it comes to our money.  This doesn't mean we always agree on how we WANT to spend our money, but we do have to agree on how we DO spend our money.  Do you and your spouse always agree on how to spend money?
Nick and I have similar spending habits when it comes to normal living expenses like our weekly grocery bill but we don't always agree when it comes to spending outside our comfort zone.  I don't expect that any couple always agrees on anything.
Talk with your spouse and find a money compromise
The key to disagreeing with your spouse is not to let it become an argument.  When Nick and I disagree on how to spend our money we treat it like a court of law, this is how we get through it:
We talk about it.  Before either of us spend our couple's money on personal items or items for the home we ask the other.  Could you imagine if we both wanted to make big purchases and didn't talk about it?  That could lead to a financial disaster.
We each plead our case.  I may not always know why my boyfriend wants to spend money on a brand new TV when ours is working just fine, but it's important I understand why.  He may not always agree with the new art I want to buy for our living room, but after he hears my case he might just want to compromise on the purchase.
After we each talk about our spending and plead our case we come to a fair agreement – or compromise if you will.
What do you do if you and your spouse don't agree on how to spend money?
Photo from Flickr