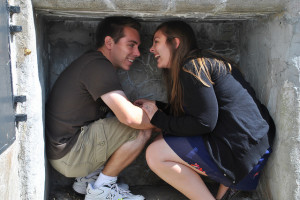 Good morning Dinks.  Yesterday I wanted to buy myself a new summer dress and I thought…hhhmmm better not.  I am close to already spending my personal allowance for the week and we still have two days to go. Even though I really wanted a new dress I didn't need it.  I have several gorgeous dresses but it's hot out and you can never have too many breezy clothes for the hot summer weather.
Is financial freedom just an emotional comfort?
I apologize to all our male Dinks readers out there but unfortunately this is an issue women have to deal with during the summer months – long hair and hot sticky clothes.  Unfortunately we can't take our shirts off where ever we are whenever we get hot.  AAAHHH it must be nice to be a man.
As I walked away from my potential purchase I started thinking, what would people do for their personal happiness?  Or yet a better question may be, what should people do for their personal happiness?  As a financial planner I constantly find myself trying to find a balance between emotional happiness and being financially responsible.  So my question to you is, how do you do it?
Does money and happiness go hand in hand?
Would you overpay for something you want?  I pride myself on finding the best deal possible on clothes and my boyfriend Nick loves buying bargain DVDs.  However he will pay extra for something he really wants.  Enter into evidence our brand new Samsung Smart TV – total cost $2800.  I think this is a lot of money to spend on a TV, but he thinks it's a good deal because the cost is worth the benefit of the new TV features.  I have yet to determine this is true.
Do you always save as much as you can?  I like to put as much money as I can aside.  With that being said I am not one of those people who are willing to stop living their life so I can save as much money as I can.  I love travelling and I'm not a big fan of the city where I live right now so I try to get away as often as possible.  This means that I have to spend money on travel expenses, hotel accommodations and exploring new cities.  Yes of course I would have a lot more money if I didn't travel three to four times a year – but I don't want to make that sacrifice.
Do you feel guilty when you spend money?  Some people can't save.  They just spend all the money they have and wait for their next paycheck.  Add in thousands of dollars of credit card debt and I used to be one of those people, but now I am capable of saving money.  After being broke for several years I was very reluctant to spend money, any money that wasn't necessary for daily living because I felt bad. I feared I would fall back into my old bad habits.  Now I am loosening up the money belt and every now and then I allow myself to spend money on myself guilt free.
Photo from Flickr
Like DINKS? Subscribe!
Subscribe to get the latest DINKS Finance content by email.