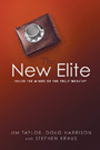 Hi All,
History has cycled back and forth regarding public views of the wealthy.  In some eras they are vilified and demonized, in others they are worshiped or are viewed as having special powers (higher intelligence, better judgement, etc).  The current atmosphere is no exception – with policy pronouncements and media depictions titling towards demonizing the wealthy. However, by and large the public seems very poorly informed regarding the realities of wealth in America today.
If you're looking for an accurate, factually based picture of America's high net worth population, check out Taylor, Harrison and Krause's The New Elite: Inside the Minds of the Truly Wealthy.  Their data is based on a series of surveys totaling over interviews of 6,000 affluent persons (average income $430,000).  Their main findings are:
1. There has been an explosion in the number of wealthy. Having net worth of $1 million isn't enough any more, you need at least $5 million to achieve real wealth.
2. The wealthy are married, and avoid luxury items. Fully 83% of the wealthy are married and 48% consider luxury items to be a waste of money.
3. The wealthy are largely self made.  About 36% grew up in either poverty or lower middle class circumstances. Large percentages say they believe in hard work, in school and later.
4. The wealthy are mostly interested in quality craftsmanship and service, not "luxury" goods which display their wealth and status.
5. Many wealthy say they practice "stealth wealth", that is they don't show their money.
6. As communications technology has increased, their investments and interests have tended to become more global.
7. Contemporary millionaires get their wealth from a number of sources:
– Their Own Business: 39%
– Someone Else's Business: 36%
– Financial Investments: 16%
– Real Estate: 13%
– Inheritance: 4%
– Other: 2%
All in all, The New Elite: Inside the Minds of the Truly Wealthy offers a compelling picture that you won't get from traditional media or political pundits.
For more on this check out our other postings on this topic:
Eighty Five People Own Half the World's Wealth

Daily Habits of Wealthy People

Wealth, Security, Freedom, Choice and Power
Get Your FREE Ebook
DINKS (Dual Income No Kids) Finance focuses on personal finance for couples. While by no means financial experts, we strive to provide readers with new, innovative ways of thinking about finance. Sign up now to get our ebook, "Making Money Tips for Couples" FREE.