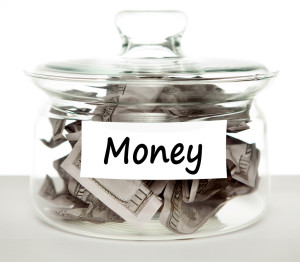 Good morning Dinks.  This past weekend Nick and I treated ourselves to a mini shopping spree.  We each took $150 of fun money and went shopping.  We ate out, bought ourselves treats that we usually wouldn't buy and we didn't think twice about any of our purchases.
Every now and then we do this.  A couple times a year we just let loose and have absolutely no inhibitions when it comes to spending our money – within the limit.  Normally we have to spread out our personal spending so it fits into our biweekly budget.  Our shopping trips usually consist of running errands on the weekend or picking up a few things on our lunch hours.  They are always chores.  But not this weekend.  This past weekend we just had fun with our money.  Do you ever just let loose with your money?
Spending some fun money to let loose
We have had our share of financial troubles in the past as we dealt with accumulating and paying off tens of thousands dollars of debt.  So to avoid racking up debt again we are very strict with our money on a day to day basis.
We live on a budget that allows for a comfortable lifestyle, but our personal splurges are definitely limited.  That's how we ended up in debt the first time – and we don't want to go there again.
Think about a world ruled by fun money
Our splurges are not a result of us wanting to go back to our old lifestyle, it's just nice to not have to worry about money.  Imagine that.  Imagine a world where money didn't matter.  It would be the fairytale equivalent of Julia Roberts shopping on Rodeo Drive in the movie Pretty Woman.
Money just wouldn't matter because you would always have more than enough to do whatever you want, and then some.  Ah yes wouldn't that be nice.  That's how I felt on the weekend.  I had $150 in my pocket and nothing mattered except all the things I was going to buy with my money.   Oddly enough I was actually still very responsible with the money.
Have fun, but be responsible
After all fun money is still money and I'm always looking for the best deal no matter where or how I spend my money.  I was very responsible with my money.  I used coupons and only bought things that I would use.  OK I don't actually need another Sephora lip gloss, but it was only $6 (usually $12) and it's fun to shop at Sephora.
For those two days Nick and I had fun and money didn't matter.  We didn't worry about paying bills, paying rent or anything else related to money.  We were on a mission to enjoy ourselves and that's exactly what I did.
Spending money carelessly was fun, but terrifying at the same time.  It gave me a glimpse back into my old life.  By the time Sunday night rolled around I was happy that my money was going back into my wallet.  I don't want to go back to spending money carelessly and living on credit.  Thank goodness this time the lesson only cost me 150 – instead of the $50k in debt it cost me the first time around.
Photo from flickr