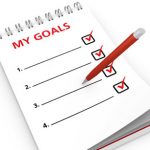 Folks,
Part of the nuts and bolts when getting ahead financially means having properly defined goals.  The thinking here is that properly defining your goals means that you provide yourself direction and purpose which improves your possibility of success.  There are several things that go into the process of setting goals that my wife and I have.
First, we don't always agree about what should be the priority in our lives. But, we both recognize and are committed to the importance of defining and setting goals that we can both mutually agree to. Where differences arise we usually handle them through negotiation and compromise.  So, one major consideration is to realize that you're going to have differences and to be committed to resolving them through compromise and dialogue.
For example, my wife's financial goals tend towards saving money and using finances to ensure that basic needs can be comfortably met in the near future.  I, on the other hand, would invest every spare penny I could get my hands on and would chose to spend less money on clothing and food.  My wife and I also differ on the need to keep a reserve of liquid emergency cash – I tend to prefer to have my money in stocks and my wife would prefer having more cash.  So, we differ a lot in our priorities about money, but have learned to implement the right process when defining our goals.
We'd recommend the following for couples who are interested in goal setting:
1) Define your goals jointly.
This is important. If either party in the relationship isn't happy with the goal, or feels left out, it's going to be that much harder to achieve the goal. While this hasn't happened to us, in the worst case scenario one partner might actually act to sabotage the other or feel resentful about the goal.
2) Make sure you really want it.
There is a great deal of inertia in life. This happens especially when you have competing priorities. In order to achieve the goal, your desire for it must be greater than your desire for other things.  The more heart you put into it the more likely you are to achieve the goal.
3) Your goal should not fundamentally contradict other goals.
Everyone has resource constraints.  For example if both of you earn a salary of $40,000 annually, and do not have other sources of income, it would not make sense to pursue two try to save for say a $20,000 housing down payment and an emergency fund of $10,000, you simply don't have enough income to achieve both.  The way to deal with fundamentally contradicting goals is to prioritize.  For example you might first work on the housing downpayment, then focus the emergency fund.  This way you'll avoid the frustration of having fundamentally contradictory goals.  Of course, you'll have to continually negotiate to determine what your higher priorities are.
4) Write your goal in the positive.
This means you should write your goal using positive affirming language. For example, say something like 'save $100.00 in checking by March 3rd', rather than 'stop wasting money'. It's important that you move forward in your goal setting, not beat yourself up over minor issues.
5) Be sure your goal is realistic and achievable.
If your goal is to be a billionaire within the next year, it's going to be exceptionally difficult to achieve your goal. It is best not to set yourself up for failure by reaching too high. On the other hand, your goal should be a stretch. For example, if your goal is to brush your teeth after you get up in the morning, then it's probably not worth setting it as a goal, because you'd do that as a matter of routine.
6) Write down your goals.
The act of writing stimulates memory and, we think, builds personal commitment to what you want to achieve. It's better if, once you write down your goals, that you put them some place where you'll be often reminded of your goal. The bathroom mirror, your computer monitor, or the refrigerator are all good options. When we saved for our wedding, we wrote down our goals and put them on the refrigerator.
7) Keep your eye on the pie.
Several of the other tips lead to this one, but it can't be stressed enough how a goal has to become part of your life. Without a true commitment and drive, goals go by the wayside. What you dream you can achieve.  So, the last point is to keep your eye on your end state and continually review what you want to achieve.
Thanks,
James