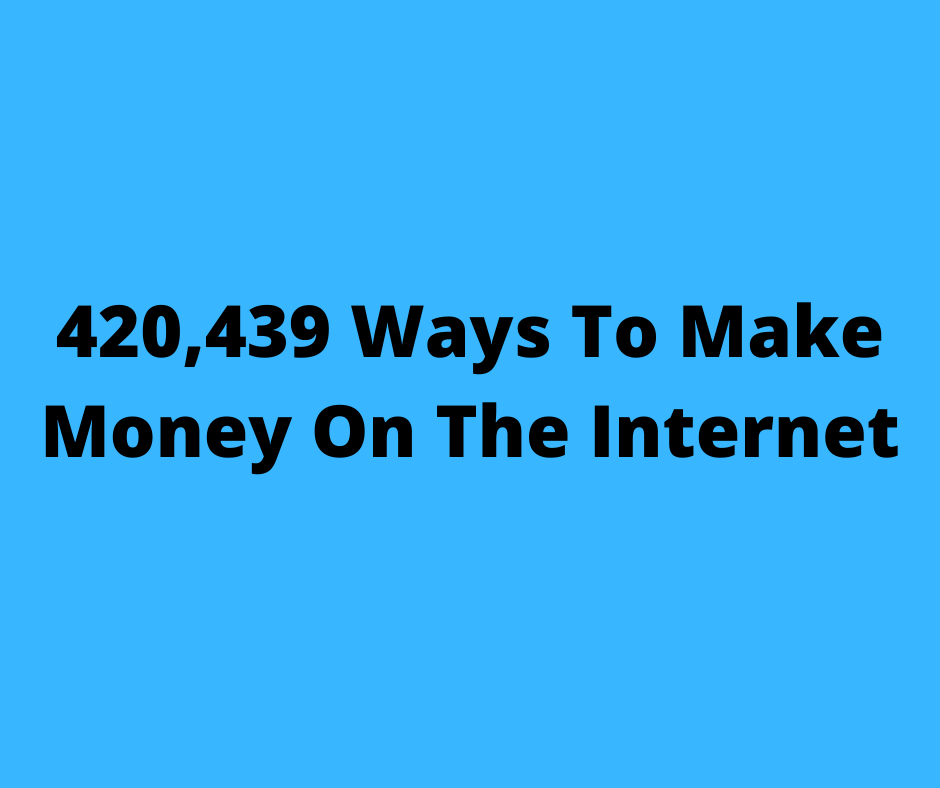 Actually….
I don't even know if there are 420,439 ways to make money on the web.
What I do know is there are a lot of tried and true ways accumulate some side income.  Here are three.
Sell Your Personal Data. Things like browsing history, spending, etc. all have economic value. If don't mind profiting from selling your data, there are tons of ways to make a few extra bucks on the side. Reputable companies that aggregate and sell your data are: Nielsen Rewards, Savvy Connect and Reklaim. A lot of people are concerned privacy…but selling your personal data is already happening in big tech, so you might as well get paid.  Data isn't worth much – each of these platforms will pay you like $5 per month.  But, once you get the platforms set up, the money is basically passive.
Sell Your Spare Internet Bandwidth.  Your computing resources also have economic value.  Specifically if you have a solid wireless connection you can always sell the gigabytes of bandwidth you aren't using.  There are three reputable apps that do this and actually pay you. These are EarnApp, Packetstream and Honeygain.  I've had all three installed on my machines at home since March of this year and all have been working mostly fine.  However, of the three Honeygain has the most problems. Honeygain's software requires the most babysitting, it pays the least per gigabyte and the company has the most consumer complaints.  EarnApp and Packetstream are both solid and pay regularly if not modestly. I'd get them both installed in your computer and just check them every 60 days or so.
Invest In Stocks.  Investing is a classic way to make money.  A lot of people don't seem to get into this – per Gallup just 58% of the country owns stock. This is a shame as stock is an excellent way to build long term wealth on the internet. I've been using brokerage companies Charles Schwab, Stockpile, as well as number of smaller ones.  If you don't have much money, you can always find companies that will give you free stock – Savingadvice has a good list.  Otherwise, its probably a good idea to maximize your 401(k) contributions and get as much money into the markets as you possibly can.
Of course, there are tons of other ways to make money on the web, these are just a few that I've been looking at recently.
Finally, an acquittance of mine that I met on Facebook has produced a really nice little list of passive income sources.  It,s not 420,439 ways to make money on the internet, but its good. Its up on google docs, here.  Its worth a read if you want to find ways to make passive income in crypto.
For More Sweet Dinks Finance Articles, Read These:
Getting Ahead On $600 Per Month
List of Ways To Make Extra Money