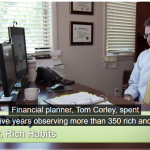 Yahoo finance used to be a powerhouse of great personal articles and videos. Their quality has declined as of late, but there are still some gems to be had if you're digging through the archives.
Here is a quick video I like by Farnoosh Torabi. In it she details some of the habits of people making more than $150,000 annually with $3.2 million in investable assets.

The video is below:
If you don't have time to check it out, basically wealthy people do the following:
1. Get up early and utilize their time for self improvement
2. Keep to-do lists at work and generally take care of most of the things on their list
3. Keep lunches short and focus on deal making or networking
4. Set short and long term goals
5. Count calories & stay healthy so they can work longer and harder
6. Spend free time socializing or networking
7. Don't gossip.
The video pretty much summarizes the work of Tom Corley – an accountant and well known proponent of the idea that wealth is generated through one's daily habits. If you like the video and want to learn more about Corley's data you might consider picking up a copy of his book Rich Habits – The Daily Success Habits of Wealthy Individuals. Its his best work. I don't recommend Corley's books for children or some of his other work. They're considerably less insightful and harder to get through.
Here are some more articles on the mechanics of personal finance worth reading:
Building Wealth on $600 A Month
The Pros and Cons of Mutual Funds
Nine Ways To Make Extra Money
6 Ways We Financially Thrive On $35,000 a Year With a Family!
Readers, if you have any other videos you'd like featured shoot us an email or leave a comment below, we'd love to have a look at them!
Editors Note: One important factor to consider in your personal success is your peer group. You'll want to surround yourself with people who are interested in becoming wealthy themselves. There are several good resources here including the white coat investors group, the saving advice forums and some smaller ones like my-father.com.  And, if you want a good overview of traditional wealth building advice, consider reading How Much Is That In Taco's article on the basic path to wealth.