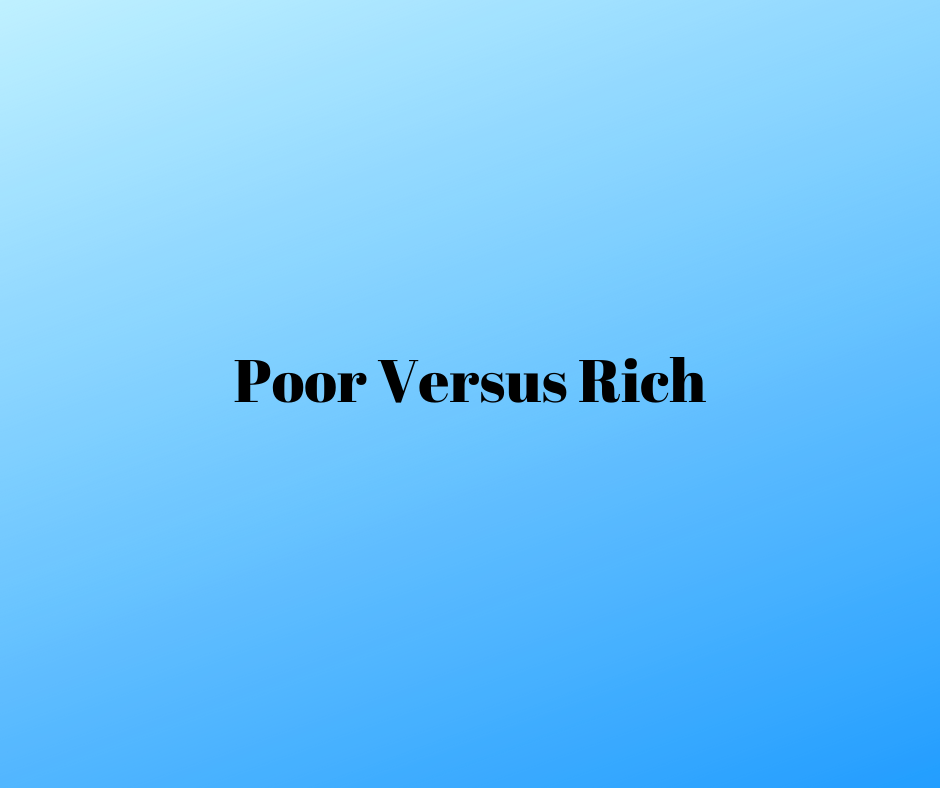 I drive around rural Oregon at lot these days.  I live in Portland, and commute on a semi-regular basis to the Oregon coast.  It's interesting going from the relatively affluent Portland suburbs to the poorer rural parts of the state.  It usually has me wondering what it means to be poor versus rich.  So, for this article I did some research and came up with an answer.
One popular source on the subject of poor versus rich is Tom Corley's study of rich habits.  His study is outlined in his popular book: Rich Habits: The Daily Success Habits of Wealthy Individuals.  His study is also on his website, which I looked at for this post.
Poor Versus Rich Differences
When it comes to the poor versus rich, there are a lot of non-monetary differences:
Relative to the rich, the poor are:
Significantly less likely to believe wealth is part of the American dream (20% versus 96%)
More likely to say the American dream is about homeownership (51% versus 5%)
Less likely to believe that bad habits create detrimental luck (9% versus 76%)
More likely to believe fate dictates financial circumstances (90% versus 10%).
The poor also:
Are more likely to lease a new car (45% versus 6%)
Less likely to balance their checkbooks every month (32% versus 94%)
More likely to carry balances on their credit cards (90% versus 5%)
Often have more than one card (77% versus 8%) and more often transfer balances (87% versus 0%)
Are less likely to know their credit score (5% versus 72%).
Educational differences are evident.
The poor are more likely to lack a college degree (17% versus 68%)
Fewer poor people say they like to learn new things (5% versus 86% )
Poor people are less likely to read for education, career or self improvement (2% versus 88%).
Unsurprisingly, when looking at poor versus rich, the poor save and invest less.
The poor save far less than the rich. Just 19% are saving for retirement, compared to 100% of the rich.
The poor also save less of their income than the rich (5% versus 100%).
The poor in Corley's study are also:
Less likely to volunteer 5 hours per month (12% versus 72%)
Less likely to vote (16% versus 83%)
Less likely to be involved in a charity or non-profit (6% versus 67%).
Work differences also contrast the poor versus rich. The poor are:
Less likely to wake up 3 hours before their work day starts (3% versus 44%)
Less likely than the rich to say they do more than their job requires (17% versus 88%)
Less likely to work 50 hours a week (43% versus 86%)
Are less likely to be small business owners (8% versus 51%)
Less likely to like what they do for a living (4% versus 86%).
If you're an aspiring wealth builder, or you are looking at improving your personal financial situation Corley's work provides some clues.
1. Adjust your mindset to develop a sense of mastery
2. Avoid high interest debt
3. Get educated and participate in ongoing knowledge building
4. Get involved in civics
5. Work a lot.
Most articles looking at his data don't really explain who he talked with. For this study, Corley interviewed 233 wealthy individuals and 128 poor individuals between March 2004 and March 2007.  The rich group had a minimum of $160,000 in annual income and $3,200,000 in net worth.  The poor group had less than $35,000 in income and $5,000 in assets.  Most of the rich group were self employed entrepreneurs. Most of the poor group were employees.  His research methodology is here.
Corley's data is substantially better than most articles on studies of the rich, because it is more than just opinion. However, the data isn't perfect. It doesn't say much about investing patterns or the middle class. And, it didn't use statistical methods of selecting participants for the study – so readers should take his work with a grain of salt.
If you want to get more details on the differences in Corley's data I suggest getting on his email list => here.
For more on building wealth, consider reading these:
Building Wealth on $600 Per Month
Streams of Income Of The Wealthy
Save, Invest and Reinvest To Build Wealth