This is a quick personal update and follow up on a previous article.  As you might recall a couple of months ago I realized my stock picking skills needed work.  So, I stopped buying individual banking stocks (UMPQ and ORPB) and I am focusing on index funds. I'm also probably going to get a paid account with The Motley Fool's Stock Advisor service.
Here is my retirement account: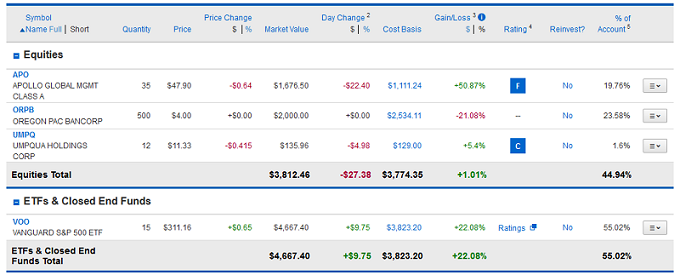 I'm also holding some of Vanguard's basic S&P 500 ETF (VOO).  Index ETFs don't give you much more than market performance.  But, given the fact that 2020 has been an unstable year, I'll take a boring and diverse equity investment over something that is going to add more risk and stress.  VOO trades on a minimum value of 1 share, which is about $313 dollars.
Is Saving A Smarter Move?
The U.S. is undergoing political and economic instability right now.  It is entirely possible that we'll see more political violence regardless of who wins the Presidential election in November. 
Also, current market valuations are not well aligned with corporate financial performance. The S&P 500 is trading at a monthly price to earnings ratio of something like 29, which is higher than at any point in the past decade (here).  While forward thinking economists argue this is because companies have largely weathered Coronavirus related shutdowns (here), corporate earnings are still dismal in big parts of the economy.
It might be a smarter move to save.
I'll keep you all updated.
For more on this, read:
I'm An Underperforming Stock Picker
Our Review Of The Motley Fool Stock Advisor
Building Wealth on $600 Per Month