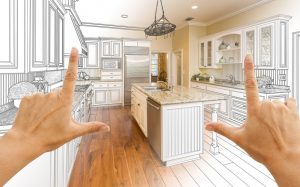 Summertime is a busy season for many contractors; since the weather is favorable and families want to spend time outside, it's only natural that you're noticing all the improvements you could make to your home. But while the U.S. construction market was worth approximately $1.162 billion in 2016, that doesn't mean most homeowners want to spend anywhere near that much to upgrade their homes. If you're intent on giving your property a facelift but want to keep costs down, here are a few ways to do it.
Shop Around
Just like any other big purchase you make, you don't want to make a move until you know you're getting the best possible price and quality. That means you should do your research on the products that are available, the average costs associated with the renovation project you have in mind, and the possible ROI that this project could offer. Give yourself plenty of time to do this homework so that you don't feel rushed to sign on the dotted line. Even walking around a home improvement store or doing a quick Google search can tell you a lot. That way, you won't have buyer's remorse later on when you find out you could have saved a bundle.
Think Small About Summertime Home Improvement
Not every remodeling project has to be a huge undertaking. In fact, it may be more effective to put those projects off until they're really necessary. If you want to give the kitchen or bathroom an upgrade, don't automatically assume you have to gut it entirely. You might be surprised what a fresh coat of paint or new fixtures can do. Plus, swapping out existing components for energy efficient ones can save you money in the long run, too. A room redecoration can be just as impactful, so keep in mind that a new rug and a couple of colorful throw pillows might provide the new look you want without having to pay more than you're comfortable with.
Go Green
We mentioned above that energy efficient fixtures can pay off in the end. Although installing solar panels or buying HE appliances might not be within your budget, you can go green on a smaller scale. Using LED lighting in your outdoor space, for example, will usually cost less upfront and in the long term (plus, at least 95% of an LED is recyclable and these lights last longer, so you'll feel good about protecting the planet!). Because green options are now becoming more affordable, it's a lot easier to make simple chances that reduce your environmental impact without having an adverse effect on your bank account.
DIY When Possible
Taking on a DIY project that's outside your comfort zone probably won't result in cost savings; the money you initially save will probably have to be spent fixing the mistakes you made! But if there are small projects that you can feasibly take on yourself, the DIY route can be a good way to go. Pinterest, YouTube, and lifestyle blogs are often a great resource for DIY home improvement and redecorating projects — many of which may be affordable and take only a few days to complete. Always hire a contractor for anything that could present a safety or health hazard (such as heating, plumbing, or projects dealing with major appliances or structural elements). But there are tons of ways to improve the look and function of your home without needing help from a contractor — especially because they're busier (and therefore more expensive to hire) in the summertime.
Keeping costs low during a home renovation or upgrade can be a challenge, but it might be easier than you think. By keeping your expectations in check, opting for smaller and greener projects, and doing your research, you should be in great shape to save and improve this summer.
Have you completed any summertime home improvement projects? Tell us about them in the comments below.
Like DINKS? Subscribe!
Subscribe to get the latest DINKS Finance content by email.