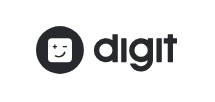 Saving money is a chore that no one wants to do. It requires scheduling, discipline, and careful monitoring of your finances. Digit.co is an app that aims to eliminate the stress, time, and effort that goes into building a nest egg. Unlike other savings apps like Qapital, Acorns, and Unsplurge, Digit's algorithm is designed to adjust to your personal spending style, so that you're not setting aside more than you can afford to.
So, how does Digit work? After linking Digit to your checking account, it will analyze your spending and income history, so it can assess your financial habits and come up with a realistic savings goal. Every few days, Digit then sets aside small amounts of cash that won't interfere with your typical spending tendencies, that way you won't have to worry about potential overdrafts. In fact, Digit has a no-overdraft guarantee, so if there's a fluke and you go in the red, Digit will cover your overdraft fee.
Out of all the savings programs and apps, Digit stands out from the pack because it squirrels away an amount that works with your day-to-day spending and earning. Over the course of two or three days, it typically stores away $5 to $50, and according to Digit's help page, the average transfer is $18. You can also set goals and savings plans, like the "Rainy Day Fund," which will never save more than $150 at a time. You can also program the app to save away money for specific bills.
The app will ping you with texts letting your current savings rate, and you can adjust the settings on the notifications to receive less-regular updates. Simply texting the app "savings" will send over a report of your saving activity. If you ever need some or all of those funds back, just text Digit and they'll send it back to you in one business day — for no charge. You can also set up a minimum balance limit so that the app won't retrieve funds when your bank account balance is at a specific amount.
Although interest doesn't accrue in Digit's account, the Savings Bonuses feature deposits 5 cents into your account for every $100 you save. The app is FDIC insured up to $250,000, and uses "state of the art security measures" for those wary keeping their data safe, the app promises to keep all user info "anonymized, encrypted, and securely stored." Just like with Venmo, Digit makes money through the interest on your funds.
Digit it ideal for anyone who has a fluctuating income; i.e. a freelancer, restaurant server or bartender, seasonal worker, or someone who runs their own business who can't predict their spending levels and revenue from one month to the next. It's geared towards folks who are serious about building a savings, as using Digit is a slight financial commitment within itself.
Digit is only free for the first 100 days, and then after that you pay $2.99 a month afterwards. Our consensus: well worth the price.
Read more of our informative articles:
Get Your FREE Ebook
DINKS (Dual Income No Kids) Finance focuses on personal finance for couples. While by no means financial experts, we strive to provide readers with new, innovative ways of thinking about finance. Sign up now to get our ebook, "Making Money Tips for Couples" FREE.