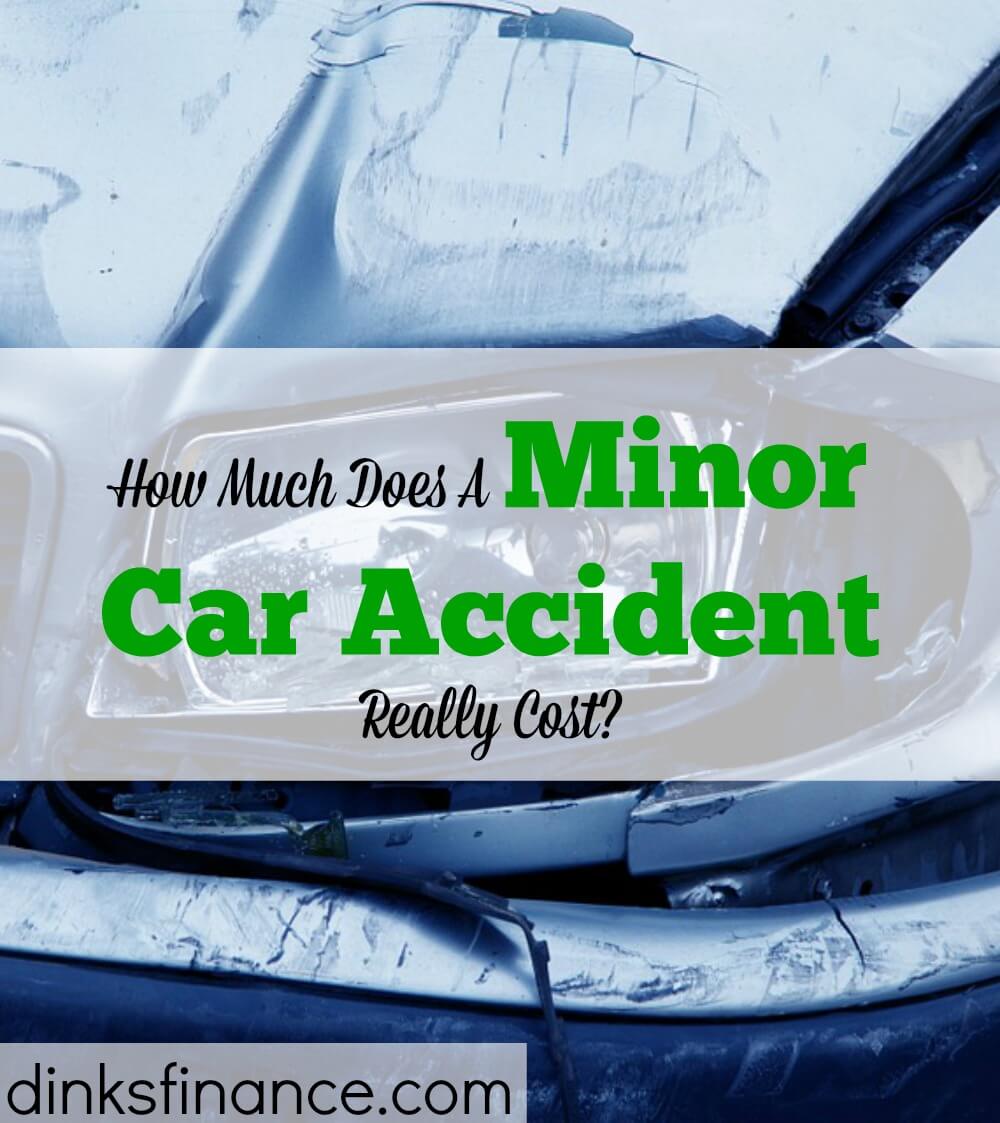 Today we have a guest post for you from Anum Yoon.
It's a scenario that plays out on roads across the country every single day.
A couple of cars are involved in a minor fender bender, and no one is injured, so the drivers exchange insurance information and go about their days.  According to the National Highway Traffic Administration, car accidents happen once every 60 seconds or so around the globe. With so many accidents happening every single day, how much do these minor accidents really cost?
Injuries
Injuries from minor car accidents aren't always obvious. You might feel a bit shaken up, but perfectly fine otherwise. So you trade insurance information with the other driver and go about your day, only to find that as the day goes on, your neck starts to hurt. In other cases, you might not feel the impact of the injury for a few days or even a few weeks.  Studies have found that low-speed impacts have the highest chance of causing whiplash and similar injuries.
If you report your injuries early, your insurance might pay for part of your medical costs.  Otherwise, you're looking at paying your health insurance deductible and other costs out of pocket.
Cost: Health Insurance Deductible + Out-of-Pocket Medical Costs.
Insurance
Even a minor car accident can send your monthly insurance costs soaring. One study found that you could see your rates climb by 41% or more after just one minor accident if the accident is determined to be your fault.
This jump in insurance rates varies considerably from state to state — if you live in Massachusetts, your rates might shoot up by more than 75%, while Maryland drivers might only see a 22% increase in their premiums after the same accident.
Although it may raise your insurance rates, it's essential to report the accident to your insurance company, especially if there's another driver involved. The only time you might not need to report an accident to your insurance company is if it's a single-driver accident that doesn't involve a lot of damage — i.e. you backed your car into a pole, but it didn't do too much damage to the bumper.
Cost: Increased Insurance Premiums
Repairs
Other than medical bills, car repairs can be the most costly part of having a car accident, especially when you consider the lightweight materials that are being used to make modern vehicles.  Gone are the days of solid steel beasts that could take a beating and keep on driving — plastic and aluminum cars are designed to react like an accordion when hit.  It's a good design strategy when it comes to keeping drivers and passengers safe, but it also means that repairs that used to cost a couple of hundred dollars now cost thousands.
If you're lucky, your insurance company will cover the damages to your car. However, you'll find that if the car is totaled (meaning that the cost of the repairs is more than the value of the car), insurance companies will usually only pay you the value of your car. As a result, you're stuck with a hefty repair bill that you'll have to pay for out of pocket.
Cost: If you're lucky — Insurance Deductible.  Otherwise — Out-of-Pocket Repair Costs.
Rentals
If your car is in the shop after a minor accident, you'll need to rent a car to use for your daily commute.  Depending on your policy, your insurance company might either pay for a rental car for a length of time during the repairs, or reimburse you for the cost of the rental.  This depends entirely on your insurance plan and whether or not you paid for rental reimbursement as part of your premium.
If you're not sure, check your policy to see what the company's position is on post-accident rental cars.
Cost: Rental Car Fees + Fuel and Mileage.
Payments
So you've been in an accident, and the insurance company decides that your car is totaled — now what?   If you leased your car, you still have payments to make even though you may no longer have the car.
If the car is totaled, your insurance company may pay part or all of the remainder of your loan. However, if the insurance payout isn't enough to cover the full amount of your loan, you will still be responsible for your monthly payments until you've paid the loan in full.
Cost: Depends on your insurance company payout.
Minor accidents can end up costing a lot more than you think. Take the time to work with your insurance company to get the most out of your policy.
Anum Yoon is a personal finance blogger and freelance writer. She shares her insights on money management on her blog, Current on Currency. You can sign up for her weekly money newsletter here.