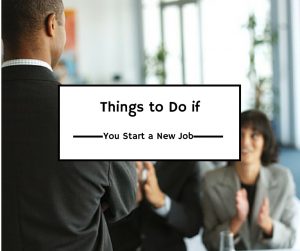 Good morning Dinks. In my post a few days ago I discussed some things that I think you should do if you lose your job. Today's post is a follow-up to that one. I will be going over a few things that I think you should do if you start a new job.
The 1st thing that you should do if you start a new job is to put your best foot forward. Putting your best foot forward means that you should do your best. You should be on time every day. You should also make sure that you learn your job quickly so that you can get your work done in a timely manner. You are being watched very closely during the first couple months at a new job. You want to show your new employer that they made the right decision by hiring you.
The 2nd thing you should do if you start a new job is to review your benefits package thoroughly. You should go over your medical insurance options immediately. If you've been out of work for a while and haven't had insurance you may want to schedule a physical and also get any medications that you may need to have refilled. You also should check out the type of dental and vision insurance as well. You should also see if your new employer has a 401k or other type of retirement program. You may also want to see if they offer any stock options. One of the previous companies that I worked for offered them. I didn't know much about stocks at the time, but I signed up for them anyway. Some employees also offer discounts with their benefits package. Some of the discounts could be on things such as hotel rooms, rental cars and cell phone plans.
The 3rd thing that you should do if you start a new job is to create a new budget. In the previous post, I stated that you should eliminate some things from your budget to help you save money during your job loss. With your new job, you may be able to add some of them back. I would only add things back if they are truly needed. That mocha latte every morning isn't technically needed. Try to keep your expenses as low as possible with your budget. Also, replenish any money you withdrew from your savings during your time of unemployment.
The last thing on my list for today is to live below your means. Some people have the tendency to spend more once they get a new job where they are earning more. Don't fall for that trap. That's one of the worst things that you can do. Sometimes people spend more to keep up with the Joneses and other times it's to buy something for instant gratification. That's not financially smart at all. Living below your means will allow you to save more money and pay off some debt quicker.
What are some things that you would do if you started a new job?
Get Your FREE Ebook
DINKS (Dual Income No Kids) Finance focuses on personal finance for couples. While by no means financial experts, we strive to provide readers with new, innovative ways of thinking about finance. Sign up now to get our ebook, "Making Money Tips for Couples" FREE.