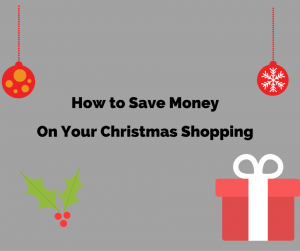 Christmas will be here in a few weeks. It's one of my favorite times of the year. I get the chance to relax and spend some quality time with my family. I also get to exchange cool gifts with them. Since I'm getting older, I'm just happy to still receive a few gifts here and there. Most of my family members feel the same way. We really enjoy this time together. Sometimes families can a go a little overboard with their Christmas gift purchases. They may get everyone what they want on their list, but end up still paying for those gifts come March. That's not financially smart. In today's post, I will be sharing a few tips that will help you save money while shopping for Christmas gifts.
Budget
The 1st thing that you can do is to create a budget for your Christmas shopping. Once you reach that budget you can't buy any more gifts. That may take some discipline, but it can be done.  You can also set a small budget for each person that is on your list as well. That will probably work best if you're shopping for a few people.
Limit the number of gifts
Limiting your purchases can save you a lot of money during this Christmas shopping season. If you usually purchase everyone in your family 3 gifts each, try getting them only 1 or 2 gifts. By doing that, you should be able to save a little cash.
Draw names
Some families are so large that they have to draw names. Drawing names is when someone writes the name of each family member on small separate sheets of paper. The pieces of paper are then put into a hat or bucket. Each member of the family then draws someone's name and gets them a Christmas gift. Imagine having a family where you have 8 siblings. It could be tough financially trying to get them all nice gifts. By drawing names, you only have to worry about one person. That will be much better on your wallet.
Take your family to dinner
Taking your family to dinner for Christmas is another way to save money. This idea might turn heads if your family is traditional or used to celebrating Christmas in a particular way. If it does turn heads don't let that bother you. It's your gift to your family. I'm not sure how anyone could get mad about free food. This should probably be done if you have a relatively small family. If you have 20-30 people in your family you might want to stick to drawing names.
Ask people what they want
I will be the 1st to admit that I've wasted money in the past by just buying random gifts for people. I'm sure some of the things I purchased in the past are collecting dust in their closets. To save time and money, you can ask people what they want this year for Christmas. I actually did this a few weeks ago. I'm usually a last-minute shopper, but I'm finished and I still have money left over this year. You may be surprised at some of the simple things that people may want.
How do you save money on Christmas shopping?
Get Your FREE Ebook
DINKS (Dual Income No Kids) Finance focuses on personal finance for couples. While by no means financial experts, we strive to provide readers with new, innovative ways of thinking about finance. Sign up now to get our ebook, "Making Money Tips for Couples" FREE.