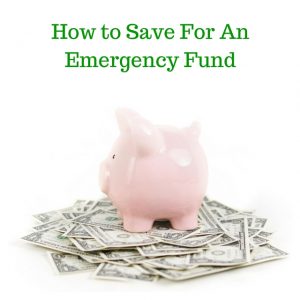 An emergency fund is something that everyone should have. Life is very unpredictable. Things can happen in the blink of an eye. When those things happen you may not always be ready for them financially. An emergency fund can help you become better prepared to face them. That fund can help you to not accumulate new debt or get stressed about your situation.
Dave Ramsey states that a beginner's emergency fund should start with at least $1000 in it. Sometimes people will look at that number and wonder how they are supposed to save that amount when they are living check to check. It's not easy, but it can be attained. I know that everybody is busy, but saving $1000 for an emergency fund must be done. Below are three things you can do to help you save for your emergency fund.
The first way that you can save money for an emergency fund is to have a particular amount of money automatically deducted from your paycheck each pay period. Any amount helps. Even saving $5 per month is better than not saving anything at all. The point is to start saving! You may have to change your budget around depending on how much money you make, but it will be worth it.
If you want to save money for an emergency fund faster you can make money by learning a side hustle. Side hustles can be done before or after you go to work. There are literally thousands of side hustles that you can do such as freelancing, selling candy or sweets, blogging or selling items on eBay. In my life, I have done a lot of side hustles to help bring in some extra money whenever I needed it.
Another way that you can save money for an emergency fund is by getting a part time job. To some, that doesn't sound like the most attractive thing to do, but it's about saving that $1000 right now. People may think that they don't have the time to work a part-time job. That couldn't be further from the truth. There are many people that work a part-time job for a few hours after they get off of their full-time job. You can also work Saturday's and Sunday's as well. Remember, you don't have to work the part-time job forever. You just want to work it until you have enough money in your emergency fund.
Having that emergency fund can give a piece of mind. Earlier this year I had a small situation happen. I had two flat tires in back to back months. In the past, that inconvenience would have me stressed out a bit. I would have had to use money from my regular checking account or worse my credit card.  This year I didn't have to worry about any of that. I had an emergency fund. I was able to go to the ATM and withdraw that money to pay for those tires. It felt great to not stress about something like that for once. Without an emergency fund, it would not have happened.
Do you have an emergency fund?