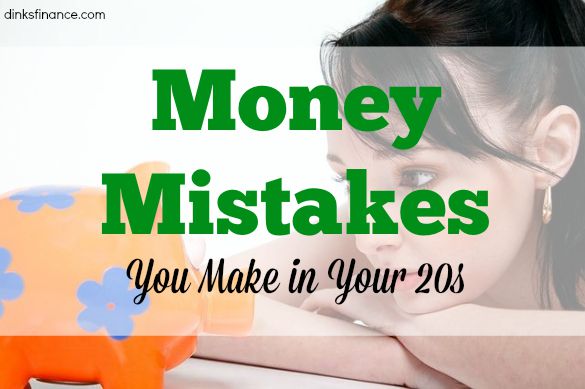 Some people say that your 20s is when you should learn good financial behaviors because it will set the tone for the rest of your life.  Although this is true your 20s are also the time when it's O.K. to make mistakes with your money.
Making money mistakes in your 20s is obviously not ideal but it's better than making them in your 40s because you have time to recover in your 20s.  Sometimes people learn the hard way and that's O.K. too; as long as you do learn, correct the mistake and change your behavior so you don't repeatedly make the same mistakes over and over again.
Another reason why making money mistakes in your 20s is not so bad is because if you are single in your 20s there is less pressure to quickly overcome the financial difficulties than if you were older with a family depending on you and mortgage payments to make.
With all that being said the ideal situation is to avoid making financial mistakes all together.  Yes it's better to mistakes younger than older, but in a perfect world you wouldn't make them at all.
Here are four financial missteps  to avoid when you're young:
Accepting credit card offers with no benefits
When you're young and have a new credit history the credit card offers may be arriving in the mail on a weekly basis.  Avoid temptation and don't accept every single offer you get, only accept the best offer.  When you have multiple credit cards you'll be tempted to spend and that can lead to thousands of dollars in debt.
Money Crashers says to compare credit card reward offers and pick the best one for your needs.  Don't accept a credit card with travel rewards if cash back offers are more important to you.
Forgetting to buy home insurance
Could you imagine moving into your new home and having all your personal belongings damaged in a flood or fire?!  It would absolutely be awful.  If you saved your entire life to buy your dream home how on earth would you be able to afford to replace all your items.  The answer is you probably can't.
Buying home owners or tenants insurance is one of the smartest financial decisions you'll ever make.  I know some people think that insurance premiums are a waste of money because it's something you pay for and may never use.  My response is be thankful you don't have to use it and my question is can you really afford not to have it?
Taking an expensive mortgage you can't afford
Having a nice home is nice, but not if you can't afford it.  Why anyone would want to be house poor is beyond my understanding, but that's probably because I'm 35 years old and I still rent.  I would much rather spend money on life experiences than a big home for two.
If you're thinking of buying a home use mortgage calculators like this one from Chase Bank to figure out how much you can afford, how much of a down payment you need and how much your monthly mortgage payments will be.