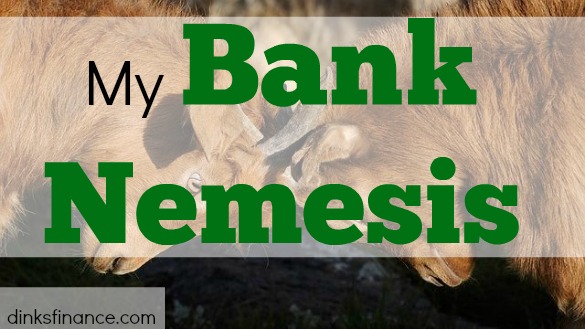 Oh yes I have one.  Even though I'm a long time financial services employee and I should have some level of compassion for what bank employees go through on a daily basis the truth is I don't.  I have zero tolerance for cold hearted banks who forget their clients are actual people instead of numbers.
Oh and in case this hasn't come across in our six years together I am an extremely impatient person.  I don't like waiting and I really don't like waiting for stupid people.  I know it's not a truly endearing quality, but that's just me.  I actually don't mind it because I feel it makes me extremely efficient.  However I'm sure others disagree.
I love TD Bank but I didn't always
As you may remember I'm a loving and faithful client of TD Bank, but the truth is I haven't always been a long time client.  Before my switch to TD Bank in 2009 I used to deal at another institution who won't be named.  Actually it depends how angry I get as I continue writing this story.  I may just have to call them out by the end as my rage builds up to an uncontrollable state.
I closed all my banking accounts and transferred out my investment accounts from this bank but I kept my debt with them, two credit cards to be exact.  As I became debt free I needed to call the bank to make sure all the accounts were closed and everything was in good standing with zero balances.   Little did I know that my simple call would turn into yet another run in with my former bank that reminded me of why I transferred everything out.
No compassion for job loss
The saga started back in 2009 when the market crashed and I lost my income.  I immediately contacted all my credit card providers to see what options I had when it came to repaying the debt.  Two of the three companies offered interest relief and offered to close the cards so I could set up principal-only repayments.  The payments were fixed and it was a big help.
The response I got from this most hated bank was "That's not our problem".  Seriously that's what they said.  They didn't express any regret for what I was going through.  They just proceeded to tell me that the debt is still owed.  The interest rate would stay the same at 19% and the payments were still due.
They have the worst customer service ever
I understand banks are big corporations with tens of thousands of employees.  It's not expected for every single employee to be at the top of their game, but I expect a basic level of intelligence.  If you don't know the difference between biweekly and semi monthly payments there is nothing I can do for you. If you listen to any of the calls I've had with them I'm sure my file is flagged as being a completely unreasonable customer.
When I made a complaint to the person I was talking to on the phone and asked to speak to a supervisor not only did he not try to resolve the problem on the spot.  He actually asked me to fill out a customer service form online.  What?! Are they serious?  For those of you who are curious the institution I completely hate and will never do business with again is RBC Royal Bank.