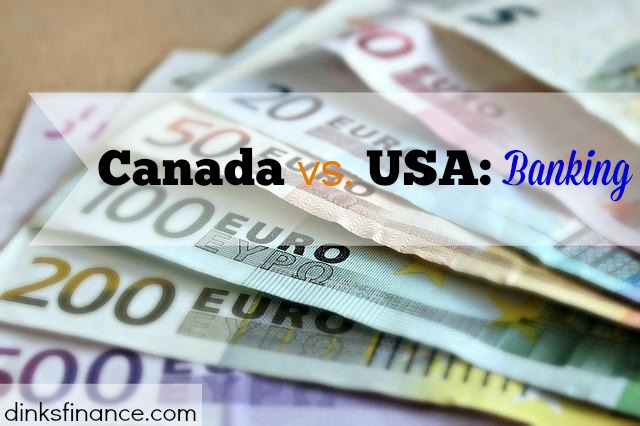 Good morning Dinks..  I just got back from another great trip in New York City.  As you know I had a very hectic February and my extra long getaway to Toronto turned out to be more business than pleasure.  To say that I was relaxed when I came home would be an understatement because I was just as restless as I was before I left.  I just needed a change of scenery, time to disconnect, sleep and basically just a chance to get away from everything.  So I booked a four day vacation to NYC.
Now I'm back in Montreal and in a little state of depression.  Don't get me wrong my time away did exactly what it was supposed to – allow me to decompress and catch up on my sleep.  But every time I come home from NYC I wish I had just stayed.  When I get back to Montreal I'm reminded of all the reasons life in the U.S. is better than it is up here in the north and it all starts with service.
Or actually I should say banking.  I have business income north and south of the border therefore I also have banking on both sides.  I'm always shocked/impressed by how advanced American banking services are compared to Canadian. I'm going to talk about the bank I use but before I do I want to say that the following is 100% my genuine opinion.  The bank has in no way paid for or influenced what I'm about to say – except with their excellent service.
I have been a TD Bank client in Canada a lot longer than I have been in the U.S.  When I needed banking south of the border it was probably the logical choice, but in true Kristina fashion I  had to look at all my options.  I made a list of the major U.S. banks and compared both services and pricing.  I looked at Chase Bank, TD Bank, Bank of America and Wells Fargo.  I love JP Morgan Chase as a company and I even own their stock,  as an existing client I was already familiar with TD Bank, Bank of America was in the news a lot at the time and I met Wells Fargo a few years ago at a conference.
All of the banks seemed like a good option but Chase wouldn't open accounts for a non-U.S. resident, Bank of America had extremely high services fees and Wells Fargo didn't seem as present in NYC as I would have liked.  So I went to TD Bank on Wall Street and opened my accounts.  I never regret my decision, in fact I'm upset I wasted so much time researching other options when TD seemed like such a clear choice.
 for the convenience and service
The customer service at TD Bank on both sides of the border is beyond anything I've experienced anywhere – and I used to work in retail.  Where the U.S. is far superior than Canada is in the banking services and technology.
Check clearing (or cheque up north) in Canada takes 5 business days for domestic currencies and up to 15 business days for foreign checks.  15 business days is almost a month and that's a long time to wait for money.  In the U.S. check clearing is 24 hours.  Amazing!
Account fees in Canada are astronomical compared to the U.S.  The fee for unlimited checking in Canada is $14.95 a month, it's waived if you have $3000 in the account.  In the U.S. I have the exact same service and I'm only required to keep a $100 balance.
Banking technology is also far superior in the U.S.  We just started getting the take a photo, deposit your check from anywhere technology up here.  I believe the U.S. has had that for at least two years.
Get Your FREE Ebook
DINKS (Dual Income No Kids) Finance focuses on personal finance for couples. While by no means financial experts, we strive to provide readers with new, innovative ways of thinking about finance. Sign up now to get our ebook, "Making Money Tips for Couples" FREE.