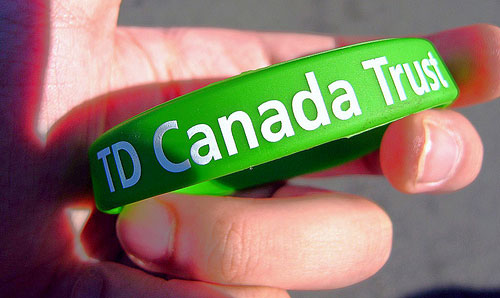 Good Morning DINKS.  Just before the holidays I travelled to New York City on a business trip, one of my orders of business was to open a US Checking Account.  Even though I live in Canada I have a "regular" income stream from the US, and it is just easier to have a US Checking Account for both accounting as well as money management purposes.  The exchange rate between Canadian and US currency is a little bit turbulent.  It's a little bit inconvenient and unprofitable to receive US currency, exchange it into Canadian currency, and then exchange it once again into US currency when I travel.  So for simplicity reasons I decided to open a US Bank Account with TD Bank.
TD Bank is America's Most Convenient Bank
After a few days of researching different banks in the US,  I narrowed down my bank choice to Bank of America, Chase Bank, and TD Bank.  I finally decided to open a US checking account with TD Bank. My TD Bank branch is located on Wall Street in New York City.  The Customer Service Representative (named Vanessa) who opened my checking account was friendly and very helpful.  She explained all of the advantages and benefits of TD Bank Checking Accounts, Mobile Banking Services, as well as TD Bank Debit Visa Cards.
TD Bank is definitely America's Most Convenient Bank with daily branch opening hours starting at 7:30 am and finishing on some days as late as 8:00 pm.  I loved the fact that TD Bank is the American partner of the Canadian bank TD Canada Trust, this allows me to transfer money from my Canadian Bank Account to my TD Bank Checking Account without any fees.  This was a major reason why I opened my US Checking Account with TD Bank because no other bank offers this service.
The monthly TD Bank Checking Account fees were comparable with the fees of both Bank of America and Chase Bank, but the minimum monthly balances to have the monthly fees waived are a lot lower at TD Bank.  I opened a TD Convenience Checking Account which allows us to receive free unlimited monthly transactions as well as mobile banking and bill payments with a minimum average  daily balance of only $100.  TD Bank also offers The Penny Arcade which allows clients to have their lose change counted and deposited into their bank account.
Banking in Canada vs. Banking in the US
The first major difference between banking in Canada and banking in the US is the Debit Visa Card, we don't have this banking feature in Canada.  We have debit cards which use the Interac system where our withdrawals are linked directly to our bank account balances, and we have Visa Credit Cards which we use and then must repay; however we don't have the convenience of a Visa with the payments being linked directly to our bank accounts.  I absolutely love this feature of American banking.  My only question is, does having a US Debit Visa card establish an American Credit Bureau for me?
TD Bank online banking is very straight forward and user friendly, once you are logged in.  The process to apply for online banking was a little bit complicated.  In Canada we just have to register our debit card and create a password, and we receive instant access to online banking.  With TD Bank US I had to apply for online banking and after filling out an application I was approved within 48 hours.
Overall I enjoyed my experience with TD Bank and I will definitely recommend their services to anyone who is looking for a new bank.  If you are in New York City I recommend that you visit the Wall Street branch, ask for Vanessa!
(Photo by stephenccwu)