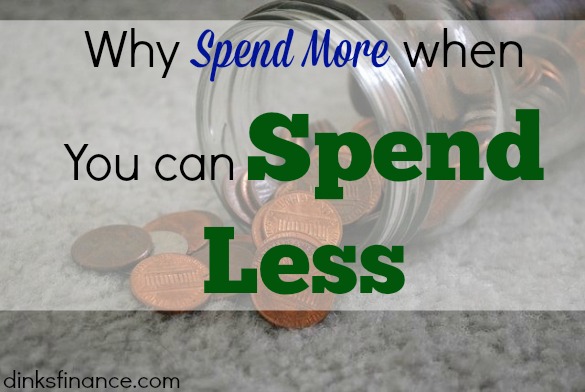 As a financial planner I'm always looking for a good deal.  It doesn't mean I'm cheap and it doesn't mean I don't have money.  All it means is I don't want to waste my money.  As long as I'm clean, smell good and aren't hungry I'm happy.
When I say I don't want to waste money what I'm actually trying to say is that I hate wasting money.  If I overpay for anything – even if it's $5 – I get mad, actually I get angry then sick and it bothers me for days.  Over the years I've learned to plan ahead and avoid a few things that help me spend less and avoid overspending.
Ways to save on everyday items
Daily spending is probably the biggest way Nick and I waste money, or at least we used to.  Now we plan our shopping list ahead of time and coordinate our spending.  We plan our meals for the week to make sure there's always food in house, this helps us avoid the temptation to spend money on eating out.  Once we've made the  grocery list we look online for coupons.  We also scan the weekly flyers to see what's on sale and use that as a starting point to plan our grocery list for the week.
We try to buy our household items such as cleaning supplies and other necessities at discount places like Wal-Mart.  But if we can't make it to a big box store for the discounts we try to buy small quantities at cheap prices until we're able to buy larger quantities in bulk.  Sometimes this means buying a no name brand and sometimes it means shopping at places we normally wouldn't, just to tie us over.
Being smart with money isn't being cheap
I choose to spend my money wisely, not waste it.  Of course we can all have more money but my income isn't preventing me from doing anything.  I find ways to do everything I want and that's because I do it wisely.  I mean why should I spend $400 on a hotel room in New York City when I could get the exact same room for $145 through a discount travel site.
Doing what you want to, especially when it comes to travel, is all about looking for the best deal.  That doesn't mean booking a hotel room at the cheapest price, it just means not overpaying for travel accommodations.  In my opinion spending more than you need to is not smart money management. Why spend more when you can spend less.  That's what I always say.
Let's just set the rules straight about saving money and being smart with your money.  Low cost doesn't mean it's worthless.  Being frugal doesn't mean you're broke and being economical doesn't mean you're cheap it – just means you have good financial cents.  Good.  I'm glad I got that off my chest.
How do you save money?
Get Your FREE Ebook
DINKS (Dual Income No Kids) Finance focuses on personal finance for couples. While by no means financial experts, we strive to provide readers with new, innovative ways of thinking about finance. Sign up now to get our ebook, "Making Money Tips for Couples" FREE.