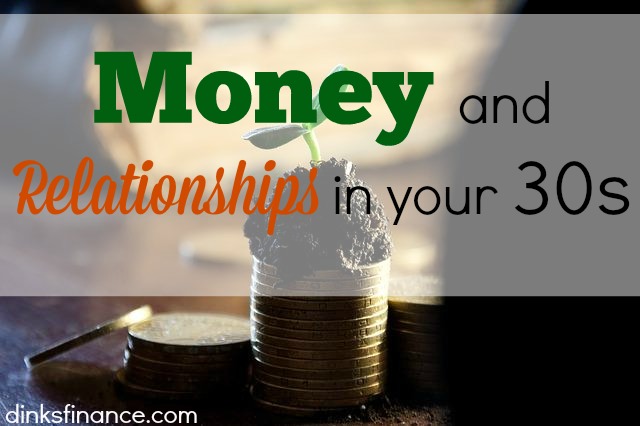 I know a lot of people like to compare their money habits to their weight loss philosophy, but I like to compare them to my relationship.  Take a second to think about that, do you treat your money like you do your spouse?
Nick and I met when we were 19 and now that we're 35 both our relationship and our money has evolved quite a bit over the last sixteen years.  We are more strict with our money and our relationship has grown stronger because of it.  We used to have a lot of arguments over how to spend our money and thank goodness our spending habits have died down over the years.  As have our social habits which helps our spending.  Has your relationship grown with your money?
Have your spending habits changed?
We no longer feel the need to go out partying on the weekend.  We're happy to stay home and have low key weekends together or with friends.  The exact same thing is true with our money.  We live a simpler money life and we're happy just having enough.  We no longer crave the high life.
This is weird because when we did want to be ballers we had no money and now that we could afford to do it if we wanted to we have no interest.  I guess that means we're getting older.
Where do you spend your money?
That's the great thing about finding your happily ever after in your 30s; you know when it's right.  In your 20s you may be looking for love in all the wrong places and end up settling for someone who is less than your perfect match because you don't want to end up alone.
The same is true for your money.  In your 20s you may be spending money carelessly on materialistic things that don't matter.  In your 30s you look for quality, not quantity.  In your 30s you know who you are and what you want.
Did you learn from your mistakes?
Even though I thought I was mature in my 20s I didn't actually realize it until very recently.  This is the type of maturity that happens in 30-something's relationships.  Talking about money before you move in together helps make the transition a lot smoother and avoids a lot of stress down the road.  Any couple who never had the money talk before they moved in together knows exactly what I'm talking about.
Reality is not everyone is good with money, but we can learn from our mistakes as we get older.  The great thing about being in a relationship is that we have someone to rely on.  Someone who can make us think twice before spending money and someone who can help balance out bad habits with their own good ones.  Yes comfort is a big advantage of being financially responsible and in a relationship in your 30s.