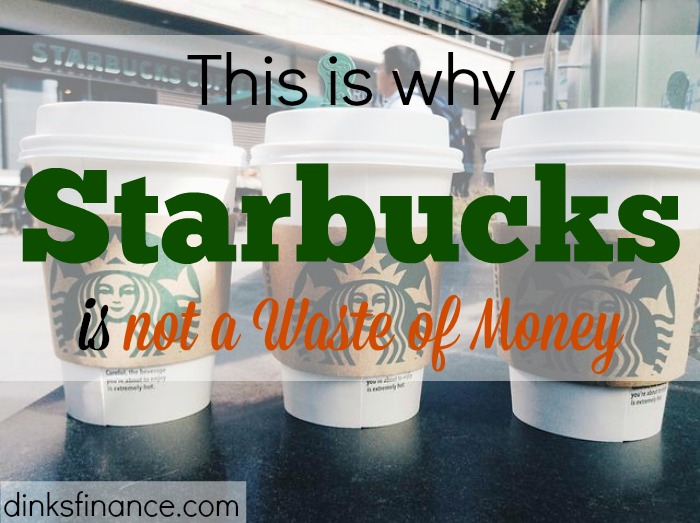 Good morning Dinks.  If you've ever read a story about spending wisely or setting a budget then you've probably been advised to cut out your daily trips to the coffee shop.  Right?  To be honest it's true.  If you want to start saving money you can cut out Starbucks coffee and stop eating out in restaurants.  You could also become a nun and take a vow of poverty or become a monk and take a vow of silence – but what fun would that be?
As a financial planner I should probably tell you to stop spending money on anything that doesn't keep you clean or warm, but I'm not going to do that.  Why?  Because I don't believe in it.  Don't get me wrong I completely agree that people should plan and save for their future, but I don't believe they should do it at the sacrifice of their current life.  I mean seriously why would you hate your life now to potentially enjoy your life later?  It just doesn't make sense.
Enjoy everything in moderation
This is why I don't think Starbucks is a waste of money.  If you want to pay $5 for an iced latte then go do it, but keep in mind you're giving up something else in order to pay for that coffee.  That's the key to setting and sticking to a budget.  If you only have $5 and you want to spend it on Starbucks then more power to you.  Just be conscious of what that coffee really costs.
Coffee is an excuse to socialize
I don't drink alcohol or smoke so if I don't meet my friends for coffee I probably won't see them very often.  Compared to after work drinks or a night out at a club I think a $5 coffee and a $3 piece of banana bread is a good deal to spend an hour or so with friends.
It's a reason to get out of the house
I work online with my side hustle and I can work from home with my 9 to 5 job.  If I didn't convince myself to buy a treat every now and then I would never leave my house.  I would become one of those crazy ladies whose eyes can't adjust to daylight because I would be stuck in my home office 24 hours a day.  I definitely don't want to become one of those ladies.
The price doesn't matter
I truly believe in paying for something you want.  However I also believe in getting the absolute best deal on everything.  Why pay $400 a night for a hotel room when you can pay $100 for the exact same accommodation through a discount website.
The same thing is true for Starbucks.  As long as you aren't ordering a $5 coffee, taking a sip and throwing an almost full cup in the garbage then expensive beverages aren't a waste.  If you enjoy it then it's money well spent.  That being said I will pay for expensive coffee if there's something in it for me – other than enjoying a delicious beverage. I am a Starbucks loyalty member which means I get free beverages, exclusive deals and discounts on products.
Get Your FREE Ebook
DINKS (Dual Income No Kids) Finance focuses on personal finance for couples. While by no means financial experts, we strive to provide readers with new, innovative ways of thinking about finance. Sign up now to get our ebook, "Making Money Tips for Couples" FREE.