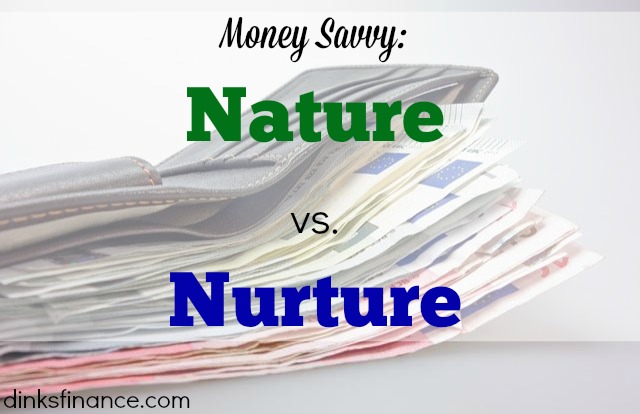 Good morning Dinks.  Do you think good money habits are learned or are we born with them?
I think it's a little bit of both.  If money habits are truly learned then everyone in their 30s or older would be good with money, but unfortunately that's not the case.  Or is it?  Maybe everyone is good with money and they just get into financial trouble because they've had a string of bad luck.  Could that be it?
Did you learn to be money savvy?
I definitely think some money habits are gifts from nature, just like sports abilities or natural intelligence.  I'm not sure why some people are naturally good with money and others aren't.  Maybe we are born with a money gene – can that be?
For me money was nurture versus nature.  I made mistakes over and over again until I finally learned from them, but maybe some people are just financially savvy right from the get go.  I think my ability to learn from my repeated mistakes is a bit of natural instinct because I wanted to be better.  Wanting to learn and be a better person is not a quality you're taught, it has to come from within.
What if everyone was good with money?
What type of world would we live in if everyone who made a financial mistake learned from it and no one ever had any bad luck.  We would live in a perfect money world, loans would never be for financial troubles or consolidation they would be for assets such as homes, cars and college.
Financial bankruptcy wouldn't exist and credit cards wouldn't earn interest because all balances would be paid off in full each month.  What would that world be like?
But what about greed?
Ah the root of all evil.  Is greed a learned behavior?  I would like to say yes because I would hate to think people are born with this ruthless quality.  I think we learn to want more because when we're born we have nothing, we haven't had a taste for the good life yet.  As we get older and see all the things money can buy we become addicted and learn to want more.  Do you agree?
How did you learn to be money savvy?
I learned the hard way.  I got into big debt twice and almost filed for bankruptcy, but didn't.  Instead I brushed myself off, stood back up on my own two feet and did whatever I had to to pay off my debt.  Within reason of course.  I stopped spending, started to live on less and got a second (then a third) job.
Of course I could have went another route and started to steal, gamble or cheat to get money, but I didn't because I was raised better than that.  Neither one of my parents are particularly wealthy but they both have enough.  They came from nothing (big, poor immigrant families) and made a life for themselves – first together then separately.  I think my money habits have definitely been learned. What about you?
Get Your FREE Ebook
DINKS (Dual Income No Kids) Finance focuses on personal finance for couples. While by no means financial experts, we strive to provide readers with new, innovative ways of thinking about finance. Sign up now to get our ebook, "Making Money Tips for Couples" FREE.