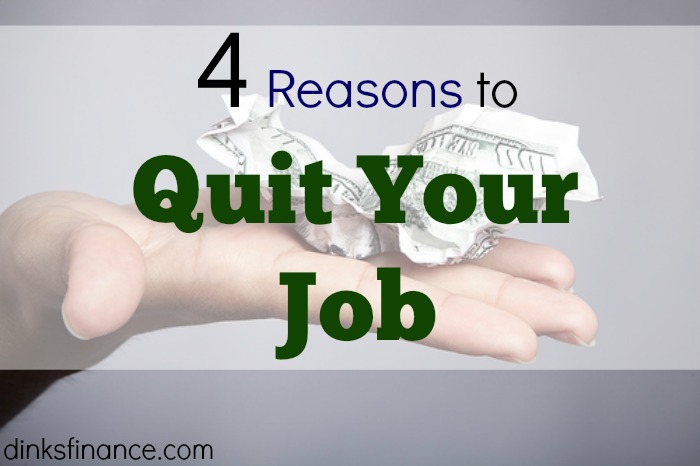 Leaving your job is a big step, it can be both exciting and terrifying at the same time.  I made a complete 180 degree career change in my 30s so I know this to be true.  Are you considering a career change?  Maybe you want a new challenge, maybe you want a change of environment or maybe you are really unhappy at your current  job.  I think it's human nature to always want something bigger and better, isn't it?  If you do hate your job and want to get out what's holding you back?  If you're like me the answer is simple – money and stability.
If you answer is no to any of the following five questions then it's time to quit your job and move on to something new.
Is the money worth it?
When thinking about quitting your job think about the money.  Whether we want to admit it or not money does rule everything around us and we need it to live.  That doesn't make us shallow, it just makes us honest.  Sometimes a job is a hassle, but the big pay check makes it worth the trouble.  Is that your case?   Keep in mind if you're changing careers you may need to start at the bottom in order to work your way to the top – and that's O.K. as long as you can still afford to pay your bills.
Do you get paid vacation?
To some people time off is just as important as a pay check – if not more.   When you are close to being pushed to your limit it seems like no amount of money can help, however a week of rest and relaxation can do wonders for the psyche.  I'll let you in on a little secret, when negotiating conditions with a new job it's easier for the company to give you an extra week of vacation than it is to increase your salary.  Vacation is not always a deal breaker, but salary can be.  Why?  I have no idea, but that's what I heard.
Are there any extra perks?
Some employers offer additional non-taxable perks in addition to your standard benefits like salary and vacation.  As I work online I have a company-paid cell phone.  My friend has use of a free gym in her office building and my boyfriend Nick gets his monthly transit pass refunded.  Those are all great perks that may not be in your standard job offer contract but they can add up to be worth a lot of money at the end of the year.
Do you have to commute?
I hate commuting.  I think it's a total waste of time.  I know it's travelling to the place that pays you so you can pay your bills, but sitting in traffic is such as waste of time.  I refuse to spend more than 30 minutes commuting to and from work each day.  I am lucky enough to be able to walk from my house to my office, but if I couldn't I would never take a job where I had to drive or take the subway for more than 30 minutes, but that's just me.  I should also probably never say never.
Get Your FREE Ebook
DINKS (Dual Income No Kids) Finance focuses on personal finance for couples. While by no means financial experts, we strive to provide readers with new, innovative ways of thinking about finance. Sign up now to get our ebook, "Making Money Tips for Couples" FREE.