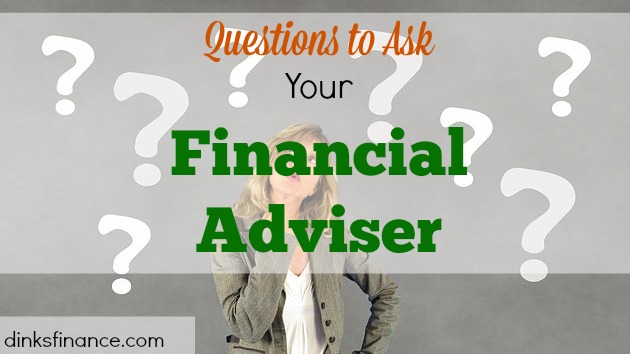 Good morning Dinks.  Do you have a financial planner?  As a financial planner myself I'm always curious as to how many people actually use the financial services of a professional.
Do you manage your own money or seek the advice of a professional?
One of my new co-workers (yes I got a new job, more about that on Wednesday) came up to me in the kitchen yesterday and said "You're a financial planner right?"  Of course I replied yes, even though I know it always opens a can of worms of people who are looking for free advice.  I asked my co-worker why she was inquiring and she said "I'm thinking of getting one."
Just like that, as if hiring a financial planner is the equivalent of picking up a bottle of wine after work.  I feel what she really wanted to say was "I'm thinking of getting it but I'm sure it's a good decision."  I didn't really know how to reply so I just finished filling up my water bottle, smiled and said "Yes I think it's a good idea" then I left the kitchen.
As I went back to my office I thought to myself I wonder why she doesn't have a financial planner.  Since I'm in the business it never occurred to me that some people don't seek the advice of a professional or that some people just prefer to manage their money on their own.  Say it ain't so!
How to find a good financial adviser
If you're looking for a new financial planner or are looking to make a change you probably want the best. Right?  Don't be afraid to ask questions.  It's O.K. we get it all the time.  With so many buyer beware stories ripped from the headlines we can't blame people for wanting to take precautions when it comes to their money.
I'm going to give you a bit of insider information when it comes to finding a good financial planner.  When you walk into their office there are three things you should look for: their diplomas to make sure they graduated from university, their business cards to make sure they're licensed and other papers or files.  This will help ensure the person is qualified to give financial advice and ensure they have other clients.
Before hiring a financial adviser ask the following questions:
What are your fees?
If you're going to pay for expert advice you'll most likely want to know how you're being charged.  Some financial planners are paid a commission based on the products they sell and others are fee only advisers, meaning they charge their clients a fee for service. It's important to know this so you'll have an idea of how much the service will cost.
How long have you been in the business?
Experience is an important factor when choosing any type of professional from a doctor to a consultant and a decorator to a financial adviser.  There's a certain prestige that comes with years of experience, this is not to say that a new adviser isn't helpful; they just may not know all the tricks of the trade that come with years of experience.
Do you have a niche?
Different types of professions have different money needs and different tax considerations.  Some financial planners choose to target a specific niche such as doctors, self employed professionals or CEOs.  If you have specific financial needs it's a good idea to find a professional who specializes in your field.
What do you look for in a good financial adviser?
Get Your FREE Ebook
DINKS (Dual Income No Kids) Finance focuses on personal finance for couples. While by no means financial experts, we strive to provide readers with new, innovative ways of thinking about finance. Sign up now to get our ebook, "Making Money Tips for Couples" FREE.