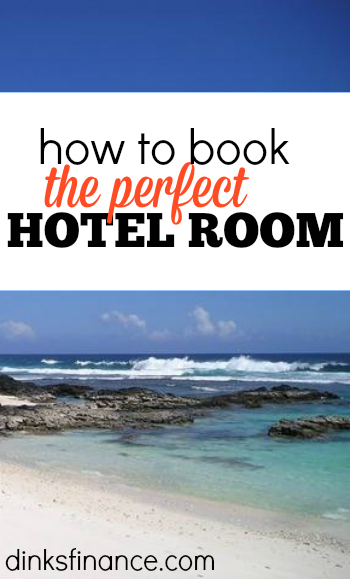 Good morning Dinks.  It's the end of February and that means it's the time of the year when I get restless.  I'm over the snowy Northeast and I long for the sun to come out and shine down on me in all its warmth and glory.
Normally this time of the year I would book a road trip to NYC or Boston (the two closest major U.S cities to where I live) but my friends south of the border are getting so much snow this year it's probably better I don't chance it.
Instead I've decided to travel 4.5 hours by train from Montreal to Toronto.  A nice extra long weekend getaway to relax.  And the best part? I am doing it all for less than $500. Yes that's right, with a little bit of planning and about two hours of trying different travel combinations online I successfully booked the perfect hotel room for only $87 a night.
If you are like me and you want a change of scenery but don't think you can afford it I'm here to tell you that YES YOU CAN!  These are my three tips for finding the perfect hotel room for your next vacation.
Be flexible with your dates
If you're a long time reader of Dinks Finance you know that I'm a huge fan of Priceline.com.  I have booked travel all around the U.S. at discounted rates with Priceline.
I am one of those people who would rather stay up late than wake up early, but not if it saves me money.  I originally wanted to leave Thursday after work so I can wake up Friday morning in a new city.  However there was a $19 a night   difference.  Since arriving the next morning makes no difference in my itinerary I decided to save over $100 and travel Friday morning instead of Thursday night.
Eliminate those high standards
I know that staying in a gorgeous hotel room is a big plus while on vacation, but there's no reason to stay in a 5 star hotel or even a 4 star hotel when a 3.5 star will do just fine.  I am more concerned about being in a great location than I am about having chocolates on my pillows.
In an effort to save $9 a night for my stay I opted for a 3.5 versus 4 star hotel.  It's in a great location and it's rated over 7 stars by guests.  Those are the three main criteria I look for when booking the perfect hotel room – location, price and star rating.
Give yourself some booking time
Discount travel websites like Hotwire and Priceline can change their prices several times throughout the day based on demand.  I started looking for hotel rooms two weeks ago, but prices were too high.  I finally booked my room for $60 a night plus taxes and fees which is a great deal.
I try to avoid booking my travel on weekends because it seems prices are always higher, probably because that's when people have free time and travel websites take advantage of it – after all we live in a world of supply and demand.
So if you want to book a nice long weekend trip or a getaway for spring break keep these three tips in mind – try different travel dates to find the best price, search a lower star level (even half a star level) to save money and try to book  your travel during the week (like on a Tuesday) to get a low price guarantee.
Get Your FREE Ebook
DINKS (Dual Income No Kids) Finance focuses on personal finance for couples. While by no means financial experts, we strive to provide readers with new, innovative ways of thinking about finance. Sign up now to get our ebook, "Making Money Tips for Couples" FREE.