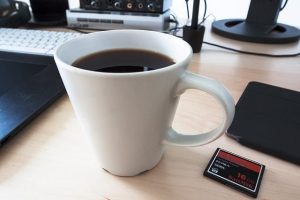 Good morning Dinks.  I can't believe it's already January 19, 2015.  I don't know why but January is flying by this year.  It feels like just  yesterday Nick and I were celebrating New Year's Eve and now here we are almost three weeks later.  How has January been for you?
January is usually an awful month for me mentally, emotionally and financially.  I normally hibernate during the winter because it's cold, snowy and windy; this makes for a very long few months.  I'm angry because I lack fresh air and sunshine and I'm restless because I'm confined to my apartment.  If you live in cold weather how do you get through the toughest months of the year?
January is not so bad if you learn to love it
Last year I decided not to hate winter any longer.  I went outside even during the coldest days of the year so I would have no excuses.   If I could go out at -40 degrees Celsius then I can go out any other day of the year.  When dressed properly in snow boots and a big winter jacket I have to admit January isn't that bad.  So that takes care of the cabin fever part of the winter, but what about the money?
January is what I like to call "the month of regret".  I look back on all the bad things I did in December and try to figure out ways to recover from them.  Actually I should say bad things, I should say I look back in all the out-of-character things I did over the last month and try to get back on track and back into a routine.
Get spending back on budget
With gifts to buy, deserts to eat, trees to decorate and meals to cook the holidays can be expensive.  Nick and I are usually very careful with our spending.  Our own personal splurges come second to items we need for our apartment.  Spending outside of our budget is definitely outside of our normal habits.
I like to compare spending to speeding.  When you're doing it the adrenaline is overwhelming and it brings instant gratitude and it's very hard to stop.  If you're driving at 100 mph when you slow down to the speed limit you can feel like you're crawling.  The exact same thing is true for spending.  When you get caught up in a whirlwind of sales and shopping it's hard to stop spending money.
How do I do it?  I just quit cold turkey.  This year I took my credit cards out of my wallet, avoided online shopping and stayed away from malls during the after Christmas sales.  It was hard but I realized that spending money is a mental obstacle, once I overcame that I just stopped having the urge to spend money.
Pay off your credit cards to $0
I know a lot of people – although I'm not one of them – who put all of their holiday shopping on their credit cards.  I used to charge gifts on my credit card but that was because I couldn't actually afford to buy them.  That's all in the past.
People get so caught up in the holiday bliss they may forget just how much money they spent on the holidays.  January brings all that back to reality when the first credit card bill of the year arrives in the mail.  Now it's time to set up automatic payments or make a lump sum payment onto your credit card to get it paid off as quickly as possible and avoid  interest charges.
Do you love or hate January?
Get Your FREE Ebook
DINKS (Dual Income No Kids) Finance focuses on personal finance for couples. While by no means financial experts, we strive to provide readers with new, innovative ways of thinking about finance. Sign up now to get our ebook, "Making Money Tips for Couples" FREE.