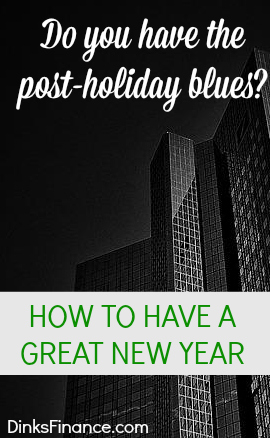 Good morning Dinks.  Do you have the holiday blues?  It's the time of the year when you realize the excitement of the holidays is over and it's back to your normal routine.  For me this kicks in every year around mid January.  It's starts to get colder outside and we start getting snow storms, all that to add on to the fact that time off from work is over, credit card bills are coming in and our normal lives once again begin.
New Year New Beginnings
There's two ways we can look at this: a new beginning or the beginning to an end.  I choose the first.  A New Year means new things for me.  New freelance clients, a new group fitness class schedule at my gym and new personal goals.  I set some pretty aggressive savings goals for myself this year and I pray to God my freelance income sustains them throughout the year.  Fingers crossed!
As you know I recently (back in November) joined a gym and despite two minor injuries I'm loving it.  I originally only set one personal goal for myself this year and that was to lose 30 pounds by August 1st .  However since then I've added in the savings goal and a business goal about mastering SEO over the next 12 months.
Does the New Year make you sad?
Some people aren't as enthusiastic about the New Year as I am.  Why?  My guess is because they have really great holidays with family and friends so when that time of the year is over they get sad.  I'm not close with my family, I actually didn't even get Christmas cards from them so to me the holidays mean time off work to relax and eat lots of sweets with Nick.
My best friend absolutely dreads January because all the celebrations are over – and she loves having a good time with her family.  We obviously don't have the same home life because I look forward to the New Year and she gets depressed.  I love planning my goals, my travels and seeing where the next 365 days will take me.
Did you over indulge in the holidays?
Some people don't like the New Year because the realities of their indulgence sets in.  Did you go over board during the holidays with gifts, food and travel? Basically I'm asking if your bank account went from black to red over the last few weeks?
I admit spending lots of money during the holidays is a lot of fun, embracing the holiday spirit with shopping bags, bows and stocking stuffers is exciting – but not in January when you receive your credit card bills.  Financial depression is a big reason why people get the winter blues.  I used to be one of them, but this year we did Christmas on $200 so all in all it wasn't so bad.
Then there's the food.  Have you stepped on the scale yet?  Lots of people indulge in sweet treats during the holidays and they don't realize how much it cost them (in pounds) until the holidays are over and they take a break from snacking.  Food is another reason why people get sad in January because now they know how hard they have to work to shed those extra holiday pounds.
So Dinks, do you have the post holiday blues?
Get Your FREE Ebook
DINKS (Dual Income No Kids) Finance focuses on personal finance for couples. While by no means financial experts, we strive to provide readers with new, innovative ways of thinking about finance. Sign up now to get our ebook, "Making Money Tips for Couples" FREE.