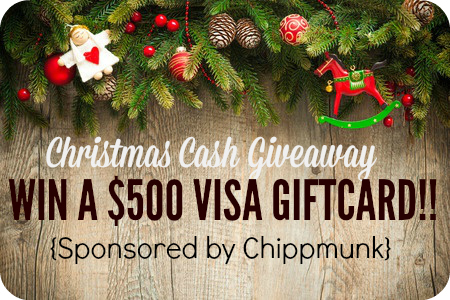 Good morning Dinks.  With the holidays are coming up wouldn't it be great if you could have an extra $500 cash in your pocket?  I know I'd love it.  Well we're giving away $500 cold hard cash to one lucky winner.  It's easy…just keep reading and enter our cash giveaway below.
If I won $500 there are so many things I  would like to do it with.  Oh I'm getting all excited just thinking about it.  Part of me thinks I would be responsible and save it, part of me thinks I should consider it an early Christmas gift and enjoy it on myself, but the majority of me thinks I should share it with Nick.
Here's a $500 cash giveaway, what would you do?
Keep it in a safe place.  No I'm not talking about underneath my mattress (if that can even still be considered safe)  I'm talking about saving or investing the windfall.  I have a few options if I want to add the new found $500 to my net worth.  I could save it for a rainy day in an emergency fund aka a high interest savings account.  I could make a contribution into my retirement account or I could just keep it in a regular savings account and use it to go on vacation next year.  HHHMMM yes those are all possibilities, but highly unlikely.
Spend it and enjoy it.  The more possible and reasonable option would be to spend it.  Can you imagine how much better Christmas would be with $500.  I could make that money buy even more Christmas gifts by taking advantage of today's Cyber Monday Sales and Online Promo Codes.
There would be more food on the table, more sweets to snack on and more gifts under the tree.  I could definitely take this chunk of cash and have a very merry Christmas, but does that seem like a waste?  To wake up with money in your pocket and have it all gone by the time I go to sleep?  It would be great for the day, but after that it's all gone.
Maybe I'll split it in half.  Since this is a couple's finance blog and I am one half of a couple I have to consider the option of sharing my money with Nick.  We could go at it dutch and each take $250 to spend however we want to.  I would hope he spends his half on buying gifts for me…but that would be selfish.  I know he wants the new Samsung phone/tablet so he will probably put his half towards purchasing that during the Boxing Day sales.  That leaves me with $250 to spend (or save) however I want.
The other thing we could do is take the $500 together and spend it on things for our new apartment.  We are settled in and we've already purchases all of our furniture, however now we have to move on to the decorating.  We need things like art and paintings for the walls, pillows for our new sofa, vases to keep plants, bamboo and flowers as well as shelves for our laundry room.  This is probably the best way to spend a $500 wind fall because we both get to enjoy it and we can spend the money together.
Enter the Giveaway
This giveaway will run from today (Dec. 1st) through 12/15 at 12:00 A.M. This giveaway is open to U.S. residents only. You can find more terms and conditions in the rafflecopter widget.
Good luck!
Get Your FREE Ebook
DINKS (Dual Income No Kids) Finance focuses on personal finance for couples. While by no means financial experts, we strive to provide readers with new, innovative ways of thinking about finance. Sign up now to get our ebook, "Making Money Tips for Couples" FREE.