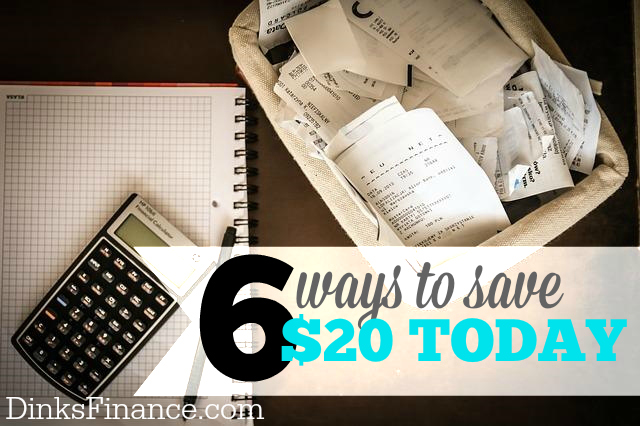 As you know I'm always looking for ways to save money – always, absolutely any way I can.  I've become very money conscious over the last month and this is how I'm saving money absolutely every single day. Here are a few ways to save $20 today:
Avoid food at the movies.  I love going to the movies and there is nothing better than a big bag of buttery popcorn and a diet coke to make a night out at the movies even better.  However spending $20 on one drink and a bag of popcorn just isn't smart.  Bring your own snacks or eat before and save yourself some money.
Cut out dinner – lunch is cheaper.  Sometimes it's nice to go out with friends after work to grab some drinks or dinner but trust me when I say going out for lunch is a lot cheaper.
Cut out two lunches.  I love buying my lunch, mostly because I'm lazy and partially because I can't cook very well.  However with a little effort I've committed to bringing my lunch to work three days a week.  Sometimes my lunch looks like something a school girl would eat but it helps me save and that's OK with me.  Cutting out three lunches a week is helping me save at least $30 a week.
Put back that shirt – you don't need it.  Sometimes I'll be walking around and I see a really cute sweater so I go into the store and try it on only to discover it's also on sale.  I used to consider this a sign from the shopping Gods.   If it looks good on me AND it's on sale I MUST have it.  That used to be my mentality, but not anymore.  Now I only shop if I need something, not just because something is a good deal.
Get over your vices.  This is probably my biggest challenge.  I am addicted to lip gloss and nail polish.  You can stop me absolutely anywhere and the odds are I have at least three different lip glosses on me at any given time.  I pick them up any time I see one I like and if I find one I really like I buy it in massive quantities.  I mean who needs to buy 5 lip glosses? No one.  This has been more of a mental obstacle than a financial one, but slowly I'm getting over it.
Just say no to the happy hour.  I don't know about your workplace but at my office it seems like I'm always being invited to a happy hour for someone's promotion, departure, birthday or bridal shower.  If I say yes to one I feel obligated to say yes to the others and before you know it I'm going out after work three nights a week.  Drinks can be expensive so try to keep the happy hours to a minimum.  A polite way to stay on good terms with your co-workers is to alternate and go out every other week or suggest celebrating once a month for everyone.