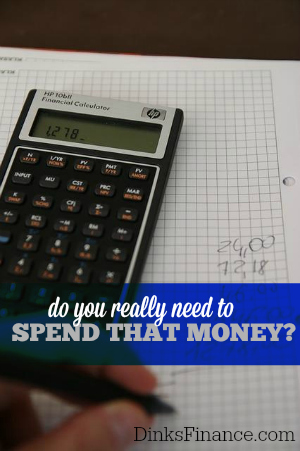 The answer is most likely no.  Since our move I've been very aware of how I spend money and all the ways I can save throughout the day.  OK let's just say it, I'm always looking for ways to save money.  Always.  I will walk in the freezing cold to pick up my pizza if it helps me save on the delivery fee and tip.  I know that sounds crazy,  but it's true.
I've always watched what I spent but now every time I (or someone I'm with) makes a decision to buy something I think to myself "That's not really necessary."  It's like a calculator goes off in my head and it adds up to say "Don't do it."  This never used to happen to me, but now with recent events I am looking for ways to save money more than ever.
New expenses mean cutting old ones
As you know Nick and I moved into our new apartment about a month and a half ago and to say our lives have changed would be an understatement.  Not only did we move to a new (more upscale) part of town we've also had to make some major financial changes.  Our new rent is considerably higher than what we were previously paying, $400 more a month to be exact – that's a lot.
We're also now have to pay hydro every month; so we have to be very cautious of how much hot water, heat and electricity we consume.  Normally I wouldn't worry about this because our old apartment was so small.  But with almost double the square footage, a new dishwasher and a clothes washer and dryer the price to stay warm and clean is concerning.
Saving a little money can add up to a lot
Nick and I are trying to save money whenever and where ever we can.  I have always been conscious of how I spend money but I never really worried about it too much because we've always had fixed expenses.  Now with a substantial variable monthly payment I'm literally scared to spend any money because I don't know if we'll have enough money to pay the hydro bill at the end of the month.  That's unsettling.  I'm sure the feeling of panic every time I want to take out my wallet will go away, but for now it's terrifying.  Any suggestions?
I pay attention to every single dollar I spend and to be honest I used to spend way more than I needed to.  I don't want to speak for Nick but I've noticed several different ways I can cut my spending without actually feeling like I'm broke or cheap.
What can you sacrifice to save $20 a day?
$20 a day can add up to $600 a month – that's a hydro bill and then some.  You may not even think you are spending $20 a day but trust me a quick stop at the grocery store after work, a coffee break with co-workers and a trip to the pharmacy can all add up very quickly.  As you go through the day think twice about what you're spending and put that money back in your wallet.  I've been doing it over four weeks and I promise it's not that hard.
Get Your FREE Ebook
DINKS (Dual Income No Kids) Finance focuses on personal finance for couples. While by no means financial experts, we strive to provide readers with new, innovative ways of thinking about finance. Sign up now to get our ebook, "Making Money Tips for Couples" FREE.