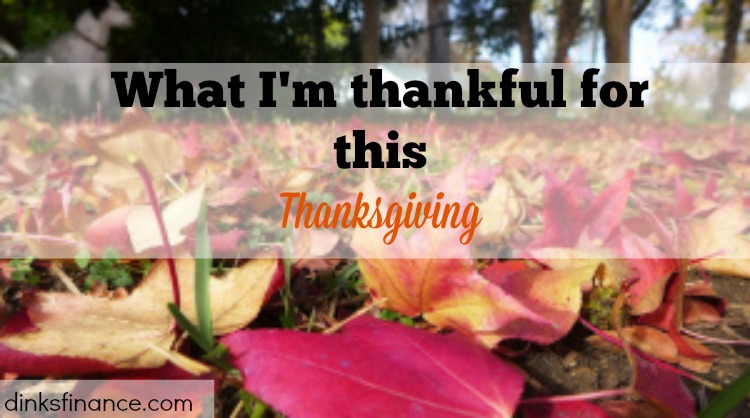 Photo Credit: Robert Hensley
Good morning Dinks and Happy Thanksgiving.  Another year has passed and it's time to look back on the past year and think about all the things we're thankful for this year.  These are all the things I'm thankful for this year:
My family, most of the time anyways.  My family has definitely had our ups and downs and I've shared a lot of that here on Dinks Finance.  I complain about my family, but at the end of the day I have to be thankful that I still have a family…what's left of it.  At the end of the day I'm thankful to have my family around because some people aren't so lucky.  Choosing not to talk to your family is one thing, but not even having the option to call is a whole other story.
My friends all five of them.  There is a quote that says "Friends are God's way of apologizing to us for our families", this really hits me personally.  I don't have the best family situation and at the end of the day my friends have always been there for me.  After my family fall out my friends have always been around to celebrate every birthday, Easter, Christmas and any other holiday so I don't have to be alone.  Friends have a special bond because you choose your friends, but you can't choose your family.
My job, however long I have it.  I love my job in digital marketing, I really do.  I'm thankful that I was able to make a career change from financial planning to marketing at 33 years old.  I had experience in writing for the web and social media from blogging and I went back to school to get a diploma in journalism; but the truth is no one had to give me a chance because all my work history was in banking.  I'm thankful I found a job I love and when our company is sold in the next few weeks I'm hoping I still have  job.
Our new apartment. Nick and I moved October 1 and as I've said here many times it's a money pit.  However I'm thankful for our new apartment because I absolutely love the space.  We are finally settling in to our new space and things are coming together, just in time for the holidays.  I love living with Nick and I'm thankful we've been together all these years, but this year I'm really thankful for our new apartment.
Money situation has improved over the years.  I am definitely thankful my money situation is not the same as it was five years ago.  Back then I was over my head in debt and now I'm not.  Now I live on less, but I don't live without and I'm happy with that.  I know improving my finances by increasing my income and lowering my debt was my doing,  but I truly believe the powers at be gave me the will to strength to do it – for that I'm thankful.
Get Your FREE Ebook
DINKS (Dual Income No Kids) Finance focuses on personal finance for couples. While by no means financial experts, we strive to provide readers with new, innovative ways of thinking about finance. Sign up now to get our ebook, "Making Money Tips for Couples" FREE.