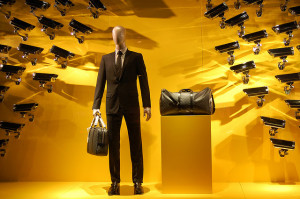 Good morning Dinks.  I announced a few weeks ago that my investment firm is being sold to a competitor;  the news is equally terrifying and exciting.  I'm terrified because Nick and I are moving into a new apartment October 1st and come January I don't know if I'll have a job.  However at the same time I am excited because the competitor who we are being sold to is a great company and if I get to keep my job I would love (love love) to work there.
How do you prepare to be transferred to a new job?
My co-workers keep saying "sell yourself", make sure you make the most of your resume and acquire as many new skills as possible.  This of course makes sense, but at the same time I don't want to need it.  I really want to have the option to keep my job and be transferred to my potential new employer.
I'm not sure if this will happen but I'm staying optimistic because I work in digital marketing and it's (supposedly) the way of the future.  However the planner in me can't help but be scared and therefore I am doing a self evaluation.  I'm making a list of all the things I need to work on.
Have you ever done that?  Have you ever looked at your work self and thought about all the things you need to improve?
If you had a new job, what would you work on for your career?
I am looking at this take over as a fresh start for my career.  A new team (although I really like some of my current team members), a new office building (the headquarters of the new office are in a much better location) and a new manager.  I am ready to see what my professional future holds – I just hope it still holds my job.
This is my creed to the job Gods out there.  If you let me keep my job and work for this fantastic new employer I promise to do the following:
Adapt to change without resistance.  I am not super set in my ways, but I don't like change to my normal routine.  I can change my way of working and I can change how we do things but I like my normal routine.  In my new job I will try to adapt better to change.  I always do end up adapting to the change but it's always with a bad attitude until I actually adjust.  Going forward I will try to avoid the resistance.
Work on my first impression.  I make a horrible first impression – going both ways.  I am not friendly when you first meet me and I never like people when I first meet them.  I guess this has to do with the not liking change part of my personality.  Going forward I will try not to be sold cold when I first meet people and I will promise to warm up to people quicker than usual.
Avoid telling people exactly what's on my mind.  I am not good at playing political games and it always gets me into trouble with my boss.  I promise not to be so frank with people in my new job.  If I get to keep my job I promise to give my criticism very constructively.
Photo from Flick
Get Your FREE Ebook
DINKS (Dual Income No Kids) Finance focuses on personal finance for couples. While by no means financial experts, we strive to provide readers with new, innovative ways of thinking about finance. Sign up now to get our ebook, "Making Money Tips for Couples" FREE.