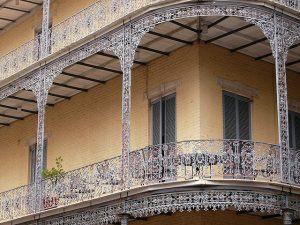 Good morning Dinks.  As you know in just a few days I'm headed to New Orleans for FinCon.  Ever since I was a little girl I've always wanted to go to New Orleans so when I hit 30 years old and started to travel New Orleans jumped to the top of my bucket list.
This trip is personal
When I was young and my parents were still married they would leave my sister and I with our grandparents and spend an extra long weekend in Louisiana with two other couples.  Needless to say when my parents got divorced the yearly trips stopped and neither of them has ever been back.
I know that current day New Orleans is probably not the same as it was pre-Katrina but I would still like to see the city.  I am excited to see the place where my parents spent so many happy times together.  Of course I'm also excited to see all my personal finance friends.  This will be my first trip to the south.  As a girl who was born and raised in the Northeast I have never been to the southern United States…other than Florida.  I keep hearing about the generous southern hospitality and I can't wait to experience it firsthand.
Visiting as much as possible
Even though the primary purpose of my trip to New Orleans is business I fully expect to take advantage of everything the city has to offer.  I want to go out and see the sights so I  booked a two hour haunted walking tour that is going to take us through an old cemetery and a voo doo shop.  It's at night so it might be a bit scary but I'm really looking forward to it because I've never done anything like that before.
I am definitely going to spend less money on shopping during this trip and more money on tourist attractions. The only things I know about New Orleans is what I've seen on TV.  I want to see as much as possible in the five days I'm going to be in The Big Easy.  I definitely want to spend an afternoon at the aquarium and I am hoping to organize a bayou tour one morning before it gets too hot.
If you want to join the bayou tour let me know, I'm hoping to get as many people as possible so we can get a really good group rate.  The problem is there are so many tours out there I just don't know which one to pick.  If you've been to New Orleans and done a bayou tour please drop me a line and let me know – I'm taking all recommendations.
That southern hospitality
Now let's talk about the food.  Although I don't eat meat I am extremely looking forward to tasting the local cuisine.  I want to try some of the southern mac and cheese that I keep hearing about as well as the beignet pastries.  I hope there is a vegetarian option for other local cuisine like gumbo and jambalaya but I'm not sure.
Is there anything else that I'm missing.  If you have been to New Orleans or you're from the area I would love to hear your suggestions on places to eat, things to see and stuff to do.
Photo from Flickr
Get Your FREE Ebook
DINKS (Dual Income No Kids) Finance focuses on personal finance for couples. While by no means financial experts, we strive to provide readers with new, innovative ways of thinking about finance. Sign up now to get our ebook, "Making Money Tips for Couples" FREE.