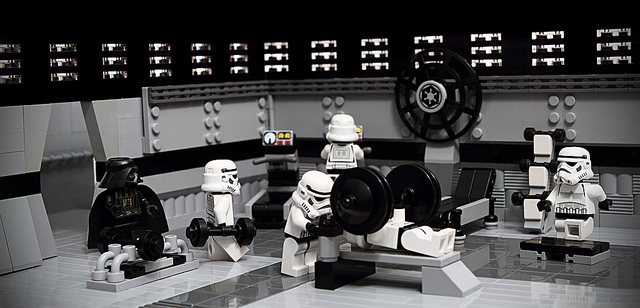 Good morning Dinks.  You have read me preach time and time again about not overspending on your credit cards.  I know firsthand how damaging to your life financial problems can be.  Not so long ago when I was in my early 20s I was living off my credit cards.  I would use my entire paycheck to make minimum monthly payments and then be forced to pay my rent late.  By the time I hit my late 20s I had five credits and they were all maxed.
Finding a balance between spending and overspending
Now that I am in my 30s (34 in October) and live a financially responsible life I always try to find a balance between spending responsibly and not being tempted to overspend.  I want to continue using my credit card and paying it off every month so I can rebuild my credit score.  However, I am always afraid to swipe my credit card in case I fall back into old bad habits.  The truth is I actually don't even carry the card in my wallet very often because I'm afraid I will start spending.
Having a balance on my credit card stresses me out. So now I try to make small purchases on my credit card that I know I can pay off at the end of the month. I find the key to being financially responsible is to make monthly payments on my credit card but keep the spending within a limit I can afford to pay off- currently I don't spend more than $200 biweekly on my credit card.
Purchases that you should always make on your credit card:
Monthly recurring payments.  I set up my gym membership to charge my credit card monthly.  It's only $45 per month and it keeps my credit in good standing.  How so?  Well in case I forget to make a purchase on my credit card one month I know that I will always have my gym membership charged to keep the card active.
Basically recurring payments make sure I use my credit card each and every month.  It's also an amount that I can afford to pay off.  $45 a month is affordable and it doesn't put me in danger of getting back into debt.
My weekly groceries.  I always charge my groceries on my credit card because Nick and I get 4 x the cash back rewards on all grocery and dining purchases. It is approximately $100 a week and lets us accumulate cash back extremely quickly.  Last year we received $75 in cash back rewards with a credit to our monthly statement.
It's definitely worth it to get free money by making purchases that you would normally make on a monthly basis.  I don't believe in spending money that you normally wouldn't spend just to get a free gift, but I absolutely believe in maximizing all your financial benefits if you are spending the money anyways.
What are the credit card purchases you make each and every month?
Photo by Flickr
Get Your FREE Ebook
DINKS (Dual Income No Kids) Finance focuses on personal finance for couples. While by no means financial experts, we strive to provide readers with new, innovative ways of thinking about finance. Sign up now to get our ebook, "Making Money Tips for Couples" FREE.