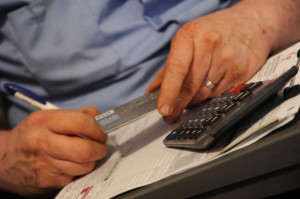 Good morning Dinks.  Let's talk about your relationship and your money for a moment, shall we?  Is your money better than your spouses?  The odds are that one person in a relationship has a better off financial situation than the other.  Both may be good or both may be bad, but either way they are probably not identical – one is always better than the other.
For richer and poorer
If your credit score is better than your spouses do you feel a sense of pressure to keep all your couple's money in order?  It's very possible that you do.  That's OK if you and your spouse decided that one person will manage the household finances.  It's also OK if you (as the financially better off spouse) are helping your (not so great with money) spouse rebuild their credit score.  It may not be OK to take on the responsibility of managing all your household finances if it's creating a burden on your relationship.
There is a difference between marrying someone who has a less than desirable financial situation who is working towards rebuilding their financial life  and someone who is just so bad with money they always want the responsibility to fall on another person.  In my mind the first situation is OK, not ideal but it's OK.  However having your spouse actually create a financial burden in the relationship is not OK.
How can you help your spouse rebuild their financial life?
Having to be the sole person in a relationship responsible for managing the household finances is very stressful and it will most likely create friction in your relationship.  It's also not fair the spouse who carries the burden.  So how do you compromise?  With a joint credit card of course.
If you need to help your spouse rebuild their credit a joint credit card may be the way to go because a joint credit card holds both cardholders equally responsible.  A joint credit card gives each cardholder individual responsibility to pay off the balance in full and it is reported on each spouses credit score.  It uses your good credit score to get approved and as you both use the card and pay it off your good habits will help rebuild your spouse's financial situation.
Would you still say "I Do"?
If you knew your spouse had a less than desirable financial situation while you were still dating, would you still get married?  It's OK to want to help improve your spouse's financial situation but  where the grey line appears with joint credit cards is when it comes to spending and repaying the outstanding balance.
If your spouse spends and you don't how do you keep each other in balance and not let disagreements about money ruin your relationship.  My advice is to keep the credit limit low and help your spouse learn about financial responsibility by making it their duty to make the payment in full each month.
Photo from Flickr
Get Your FREE Ebook
DINKS (Dual Income No Kids) Finance focuses on personal finance for couples. While by no means financial experts, we strive to provide readers with new, innovative ways of thinking about finance. Sign up now to get our ebook, "Making Money Tips for Couples" FREE.