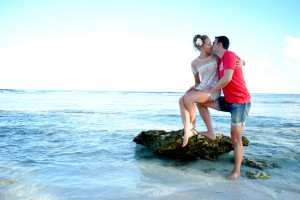 They say that men are from Mars and women are from Venus.  I admittedly haven't read the book, but I do fully understand the concept.  Nick and I have been together for almost fifteen years and I would like to think that we have a lot of things in common.  However I can't help but notice our biological differences.
Even if we find our soul mate, a person who completes us, the inevitable genetic differences between men and women will always exist.  I always wonder if the differences I see between men and women are just differences in my relationship between Nick and I or if they are actually in our DNA.
Spending money like a man
My boyfriend never makes impulse purchases and he does not go out on a Saturday afternoon because he's in the mood to shop.  I however like to buy nice things to cheer me up when I'm having a bad day.  To be honest I like to keep my "nice things" under $20 and they usually include books.  But nevertheless I use money to control my emotions and my boyfriend doesn't.  He also doesn't eat a whole roll of chocolate chip cookie dough when he has a bad day.
Women have emotions, do men?
I admit that I am more emotional than my boyfriend.  On a good day I am full of energy and on a bad day I can go from happy to raging angry in less than a second.  I try to keep my temper under control because it's really not a good look on me, but sometimes I literally can't help it.
My boyfriend has more of a vanilla range of emotions.  He has a fun personality, but he is definitely not emotional.  I am planning a trip to my hometown in a few weeks and I booked my tickets over three months ago.  I made plans with my family and friends so I can try and see everyone while I'm home. Two days ago my dad calls me and says we are spending one day with his side of the family at a family picnic.  I was thrown for a loop because I'm not a big fan of change.  I got really upset and my boyfriend just said "Why are you so upset, you still get to see your family."
It's not about the lemons
Remember the movie The Breakup starring Jennifer Aniston and Vince Vaughn?  There is a scene where Aniston asks her boyfriend Vaughn to bring her 12 lemons for a dinner party they were hosting that night.  Vaughn in turn comes home with only four lemons.  Aniston freaks out and breaks up with him.
While I was watching this movie with my dad he said "I can't believe this crazy woman is breaking up with her boyfriend over lemons."  I tried to explain to him that it wasn't about the lemons.  It's about mutual respect in a relationship.  If someone asks their spouse to do them a favor it should be done.  I honestly don't understand why someone would only bring home four lemons if your girlfriend asked for 12, but that's just me.  My dad on the other hand said "Well at least he brought her something."  I guess that's the difference between men and women.
Photo from Flick