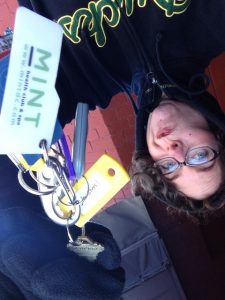 One of the realities of home ownership is dealing with repairs and maintenance, this is particularly true for managing rental properties. With our three rental properties, our own home, plus a vacation beach rental, we have more than our fair share of home maintenance.
Even with all that we own, more often than not, things are pretty quiet. These last couple of weeks have definitely been an exception to that rule!
Within a day or so of finding out that the microwave was fried at one of our properties, the dishwasher went out in our own place. By the time the repair guys were coming out for both of those fun items, there was suddenly a leak from a radiator in the unit above another unit of ours. Plus, we were already in the process of renovating our third rental property. To add insult to injury, just as we are working on the final repairs from the leak of last week, there was a leak reported this morning in the unit with the microwave issue that had finally been resolved.
Lessons Learned:
1) Divide and Conquer. In sum total, we were dealing with a microwave, dishwasher, leak, and renovation simultaneously. James would admit that I say "we" liberally, as I ended up taking care of the majority of the repairs and coordination myself, since my office is closer and I had the flexibility to deal with things. We have shared the renovation responsibilities, with me doing the design and selection and James managing the contractor. This was enough to keep things manageable throughout the process.
2) Repairs don't always pay. There are times for simple repairs, but more often than not it seems that buying new may be the cheaper route to take. When considering whether to call the repair guy, you should assess how old the unit may be (guess if you don't know for sure), what the overall condition is, and what type of an issue is happening. In our case the dishwasher in our place was 15-20 years old and the microwave was 10 years old, both would have cost slightly more to repair than to replace. Many appliances over 10 years old don't have parts available, so you may not even have the option. If you do try for a repair that leads to needing a replacement, ask your repair person if they have any discounts for a purchase. Sears repairs are $85, but they also give you a coupon for $45-$75 off a new appliance, depending on the price. In our case we paid more for trying to repair the units, as well as the extra time.
3) Be diligent. In managing this process I had to follow up umpteen times with repair guys, contractors, delivery guys, renters, neighbors, rental management folks, you name it. From my experience it pays to be on top of it and follow up as much as it makes sense. Sears was pretty horrible when it came to scheduling folks, rescheduling multiple times. It felt a bit like ground hogs day, until finally they showed up at the wrong property with the wrong appliance after having confirmed three times the address and appliance that was being delivered. However, the very next day Home Depot showed up with zero notice whatsoever, so not much easier. Luckily with the few quirks in scheduling I happened to have a neighbor help in one case, and our contractor happened to be in the neighborhood for the unexpected Home Depot delivery. Whew!
4) Diplomacy pays dividends. In dealing with repairs, it is very easy to get annoyed or worse. From my experience, there is a time for being nice and times when it is helpful to make it clear that you are unhappy. In communicating with folks within a condo, or vendors you have used repeatedly, it is particularly important to be nice and fair. You can build a lot of good will this way. However, there were a few times I had to complain about total lack of service, and this helped to have them take me seriously and help resolve the situation. I also ended up getting an extra $50 gift card from Sears.com for dealing with my hassle.
Any repairs/appliance nightmares to share?
Miel