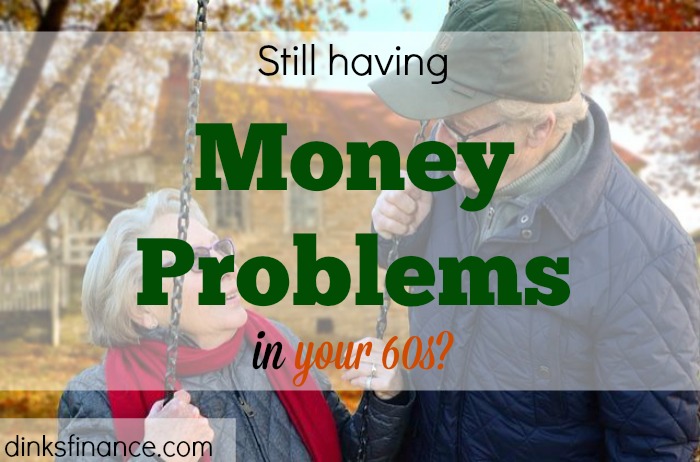 Good morning Dinks.  We all work so one day we can stop working and live happily ever after into retirement bliss.  But what can you do if you are mentally ready to retire, but can't afford it financially? Well that's the situation that one of my clients is currently facing.
My client Mrs. Zenna has been happily married to her husband for over 30 years and they planned to retire together, but the Zenna family has had anything but a blissful retirement. Mrs. Zenna has had a hard time adjusting to her new fixed, and lower, income in retirement.
As much as possible we (myself and Mr. Zenna) tried to plan for their retirement both financially and mentally, but Mrs. Zenna didn't always take our advice.  She was used to having a certain lifestyle and she wasn't sure what to cut out of her retirement budget, so she didn't make any cuts in her monthly spending.  Mrs. Zenna just kept spending money the couple didn't have and to hide her spending from her husband she spent it on her credit card.
Now two years into retirement Mr. and Mrs. Zenna found themselves $20,000 in debt and they don't know what to do about it.  Mr. Zenna was completely shocked when his wife confessed that she was overspending and accumulating debt during retirement – mostly because they have no money to pay off the debt.  This may not have been a problem if the Zenna family didn't live on a very strict budget, but they do.  So I sat down with Mr. and Mrs. Zenna to discuss how they can fix their finances in retirement.
3 financial planning rules for couples:
Share the financial responsibility.  One of the major problems in the Zenna financial relationship is that only Mrs. Zenna manages the accounts.  If both couples in a relationship keep an eye out on the family spending and saving then bad habits can be caught a lot sooner.
Seek professional help.  If you are in retirement and finding it very difficult to adjust to your new lifestyle with a lower income then get some advice from a professional financial advisor – that's what they are there for.  Financial advisors can help you set a budget, find patterns in your spending and suggest places where you can make cuts as well as control your spending when it comes to debt.  If you can't break your old financial habits, then it's time to seek professional help.
Fixed income needs fixed expenses.  The truth is that couples in retirement should not even have credit cards because if you live on a fixed income you also have to have fixed expenses.  The Zenna family lives on a budget that includes income from their retirement accounts, they are no long saving money because they are spending it.  But if they over spend one month they don't have the extra income to pay off debt.  So what do they do? They have to spend less the next month in order to make the debt payment, but they aren't financially responsible enough to do so.  The money rules in retirement are kind of like the money rules when you are a teenager starting your financial life – if you don't have it, then don't spend it.
Photo by Leshaines123
Get Your FREE Ebook
DINKS (Dual Income No Kids) Finance focuses on personal finance for couples. While by no means financial experts, we strive to provide readers with new, innovative ways of thinking about finance. Sign up now to get our ebook, "Making Money Tips for Couples" FREE.