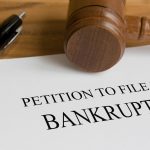 Folks,
A while back, a friend of mine decided to file for bankruptcy.  What happened was over the course of a couple of years he had generously decided to take care of expenses for his brother and mother.  When the economic crisis hit in 2010 he got laid off.  He was also slow to address the problem and   by the time he started seriously considering bankruptcy he had something like $200,000 in credit cards, car and student loans.  By then it was too late –  my friend ended up pulling the trigger and declared bankruptcy at the end of 2011.
We ended up meeting up a year or so later over beers at a local bar.  After the third drink, I asked my friend how it was going.  He tried to put a good spin on it, but from the look on his face, I could tell he was having a hard time.
The situation got me thinking. A lot of people with massive debt feel that filing bankruptcy is a magic bullet which will solve all their debt problems. However, when you take a close look at it, filing for bankruptcy has some pretty serious downsides.   I've summarized a lot of what is written about bankruptcy below.
1) Bankruptcy can and does have a negative impact on your credit score.  That said, how much of an impact it has depends on your particular situation. In some cases if your credit score is good, you make take a hit.  However, if your credit score is poor, it may actually increase your FICO numbers.  But that said, its important to bear in mind that by declaring that you won't pay your bills, you're probably going to take a long term hit.  Nobody likes being shorted on a debt, much less banks and credit card companies.
2) You can lose your assets. Depending on how much home equity you have, the type of bankruptcy you file and whether or not you can take exemptions during the filing process, you might lose your home or other valuables.
3) Bankruptcy is public and can hurt your reputation. Lets face it, the world is going virtual. With more and more records stored on the internet, searching data becomes easier for anyone who cares to find out about your financial history.  This is important because a lot of employers (especially in the finance, defense or security industries) will look unfavorably on a bankruptcy.  This could also hurt you socially or strain your relationships with friends or loved ones who think filing shows poor character.
4) Your friends and relatives may be forced to return money or property.  Sometimes when people know that bankruptcy is inevitable, they give away cash or other assets to their associates or family.  In some cases these kinds of transfers can be clawed back by a bankruptcy trustee.  This kind of reversal is can also occur for loan repayments or other paid off loans.
5) Bankruptcy increases your borrowing cost. After bankruptcy the next step is usually to go about rebuilding your credit.  However, the impact of some kinds of bankruptcy can impact your credit for a minimum of 7 years. This means you'll be stuck with higher credit card rates, more expensive mortgages and pricier car loans.  This is because people with poor credit usually pay more to borrow money to offset the lenders risk.
6) Bankruptcy won't stop all your problems. For example, it won't stop any criminal or government regulatory proceedings against you. It also won't necessarily halt any action to collect back child support, alimony or proceedings against someone who cosigned on a loan for you. To prevent these you would have to organize a chapter 13 repayment plan.
So, the bottom line is that bankruptcy isn't a panacea, it has some very significant downsides.
Get Your FREE Ebook
DINKS (Dual Income No Kids) Finance focuses on personal finance for couples. While by no means financial experts, we strive to provide readers with new, innovative ways of thinking about finance. Sign up now to get our ebook, "Making Money Tips for Couples" FREE.