Why is the price of gold falling?
In a word: China.
The latest analysis from The Atlantic (1) suggests that the price of gold is had been declining due to a couple of factors in the Chinese economy.  First, the Chinese economy is rapidly maturing, which means that families have alternatives to gold as an investment option.  Second, the global economic slowdown is pressuring budgets in China which means the hordes of Chinese jewelry buyers aren't buying as much as they used to.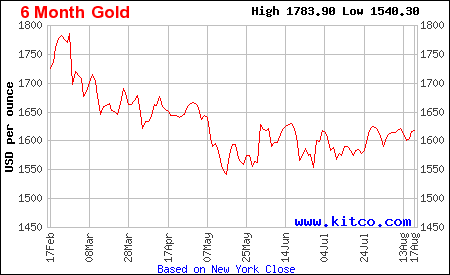 So what does this mean for you?
Assuming that falling gold prices are due to China, then to the degree that Chinese demand continues to decrease, then the price of gold should continue to fall.  If I had to bet, it would seem that China's economy and its financial markets are likely to continue to mature in the next coming years, suggesting that demand in the middle kingdom will remain soft.
So, what are the implications for your pocketbook?  Well, provided you agree with the idea that gold is going to decline, then you have several options.  You might consider selling your gold or delaying any purchases.  So if you're looking to pick up some jewelry or buy a bit of bullion, it might pay to wait a few months.
Best,
James