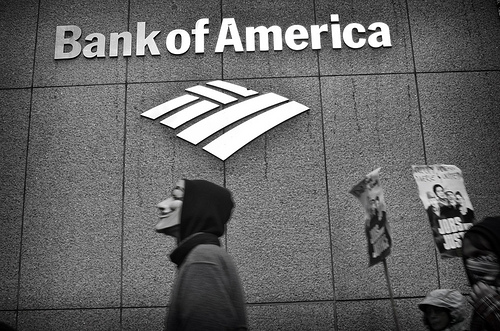 (Guest Post by Kristen from FindTheBest.com)
The earth is quaking with "movements" but these tectonic activities are not rumbling beneath the surface. They are happening right in front of us; they are happening on "The Street"- Wall Street, that is.  And the "occupiers", currently embroiled and immutable in their habitation of urban economic centers across the U.S., are creating some visible ripple effects.
One of those shock waves was Bank Transfer Day (BTD).
Though not officially associated with the "Occupy" movement, the initiative represents a disillusionment of the "99%", a self-titled meme that refers to the U.S. income distribution among the households with the lowest (99%) and highest (%1) incomes.   Kristen Christen, creator of the provocative BTD on November 5, called for a voluntary transfer of accounts from big, commercial banks to credit unions, in the face of, what she called "ridiculous fees and poor customer service." Right or wrong, I'm guessing her grievances have a lot to do with the following banks and their recent behavior.
6 Banks Raising Fees and Eyebrows:
Bank of America increased MyAccess checking monthly maintenance fees from $8.95 to $12.00 earlier this year. Also, don't loose your debit card – that will cost you a 5-spot…or 20 bucks for rush delivery.
Citigroup basic checking account fee increased from $8 to $10. (Most of these customers were not pervious charged any fees.)
Chase quietly hiked their entry-level checking fees. raised the fee on its standard checking account to $12 a month.
Citibank charges for switching out of a middle-tier checking account, which carries a $20-a-month fee, into a basic account, which doesn't charge fees.
U.S. Bancorp now charges 50 cents per check deposit via mobile phone.
TD Bank, starting in December, will charge $15 for each incoming domestic payment.
Note: Last year, a Pew Charitable Trusts study revealed that bank customers could theoretically incur 49 different fees on a standard checking account. (WTF?)
What Gives?
Banks are hoping consumers won't see the surreptitious increase of existing and additional fees, or won't do anything about it. "We'll see if our customers complain and move, or just complain," said Richard K. Davis, U.S. Bancorp's chief executive. (Uhhh…Seriously?)
Davis' patience might be strategically warranted. Despite the 79,000 "Likes" on the Bank Transfer Day Facebook event page, many people are sticking with their banks after being confronted with the onerous task of moving numerous online bill-paying arrangements elsewhere.
So What Can the "99%er" Do To Keep Bank Accounts Good?
Credit Union: You'll be in good company. Nonprofit, credit unions, often offer lower fees and better rates on bank services. Credit Unions are smaller, community-based organizations, they encourage clients to develop regular savings habits while promoting thoughtful borrowing for big purchases, emergencies or educational needs. Like traditional banks, credit unions offer a variety of different savings and checking accounts, credit programs and other services.
Banks or thrifts: Institutions with deposit insurance from the Federal Deposit Insurance Corp. are also good options.
Read the fine print: If you want to stick with a commercial bank, and all you need is basic checking, bill pay, ATM access and a debit card, then look for accounts that don't charge fees for a minimum balance or checks written. Web sites like mybanktracker.com and FindTheBest.com are good resources for this information.
Keep Cash Under Your Bed. Just kidding…Kind of.
—————–
Guest post by Kristen Brophy of FindTheBest, unbiased data-driven comparison engine designed to help you find the best of anything from a checking account to credit card.
(Photo by jesse.millan)
Get Your FREE Ebook
DINKS (Dual Income No Kids) Finance focuses on personal finance for couples. While by no means financial experts, we strive to provide readers with new, innovative ways of thinking about finance. Sign up now to get our ebook, "Making Money Tips for Couples" FREE.