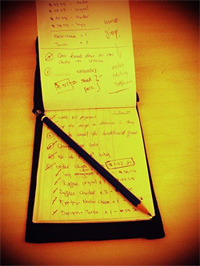 One thing I have noticed about successful people, or just people who have their finances in order, is that they usually have great time management skills. They know how to prioritize and get things done that need to get done. They also do whatever they can to avoid "wasted" time.
I'm a planner. I like to know what I want to accomplish and then get it done so that I can maximize my time. I hate not knowing what I want to get done or wasting time doing something I do not truly enjoy. That is one reason I am nearly obsessive about time management.
There will always be things that we should do that we don't. We sometimes make excuses such as "there is no time!" or "I'm way too busy!" In reality the issue usually comes down to how we manage our time and prioritize what we do. There are many individuals and couples who do not have their financial house in order and often it is due to a lack of planning. It's not the easiest or most fun task and it usually gets put on the backburner whenever possible. If we make time for things that should be a priority – like proper financial management – we would all benefit.
I thought I would offer up three tips that have helped me and continue to help me (I'm a work in progress!) manage my time, and in turn my finances, more effectively.
3 Ways to Improve your Time Management Skills
1) Write things down – If you are able to write things down as they come to you instead of trying to remember them later on, you will both save time and energy. The useful stuff you will have for quick reference and the junk you can just cross out.
2) Figure out your goals and, in turn, your priorities – With time management the key is to figure out what you really care about. If you care about having more time to spend with those you love, living a more frugal life could be something you prioritize. If you care more about having higher quality things, or just a bigger safety net you may want to look for some side work or figure out how to maximize your current income. Priorities should be tied to your goals.
3) Make lists – I'm a little biased: I make lists every single day. It helps me see what I want to accomplish as well as weed out the important tasks that need to be done soon as well as the tasks that I can shelve. Even if it is a task I may not end up doing for a week, it is still on my radar because it has a presence on my to-do list. If you don't already make lists I would recommend that you at least give it a try – who knows, it might be an activity that really benefits you.
I hope this post was helpful. If you have additional tips to offer I would love to hear them!