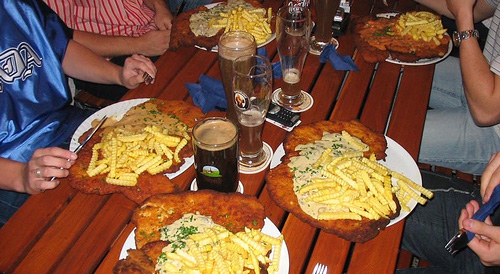 If you're like me, a lot of times when going out with friends to your favorite local bars and restaurants hefty bills can easily be racked up, only to be paid for in cash after the final check arrives.  Personally, I see these as missed opportunities…
What if you pay the bill?? I'm not saying right then and there you fork over $100+ in cash.  What I'm saying is to collect cash from your friends (who were already planning on paying cash) in the amount they owe and throw the total on your credit card.  It's a small example of Time Value of Money…"a dollar today is worth more than a dollar tomorrow".  Either way you would have had to pay your share, but now you're able to immediately input that cash into your savings account or invest it elsewhere, while earning interest.  By the time you pay the credit card company your monthly bill total, you have already been able to earn interest on money that wasn't even yours in the first place!
Obviously it's not going to save you loads and loads of money if you only do this once a month, but even then it helps, and every little bit does!
And nowadays, with the benefits of certain credit cards (via fly miles, hotel stays, etc.) the fun doesn't have to stop there.  Take the American Express Starwood Preferred Guest Credit as an example.  This is my go-to card that I swear by.  For every dollar I spend on this card I receive at least a point, and just for signing up for the card receive thousands.  Once I have accumulated enough points, I'm able to use them toward different hotels.  All the hotels/resorts I have stayed at are VERY NICE, and they're all also rated by Starwood on a five star scale (more stars costs more points).  And some hotels even have specials, for instance allowing you to have your fifth night free (aka not pay points).  And I haven't done this, but if I plan a vacation through Starwood with my friends and want to get really greedy, I could book the hotel room with my points while having my friends pay me (I hope none of my friends read this haha).  Or could just have my friends cover food/travel expenses.
So to recap:  Get a credit card that has some sort of benefit package included, pay with your card when possible, use your card in large groups and collect the cash, and deposit/invest that cash.
Things to look out for:
Credit card maximum (DO NOT exceed!)
Pay attention to how much you're spending
Don't feel obligated to buy goods/services you normally would not
Not all businesses accept all credit cards (AMEX charges businesses larger percentages)
Deposit the cash you receive (don't think of it as "extra loot")
Playing off the same concept, my next arbitrage target is renting.  My goal is to find a two or more bedroom apartment in a complex that accepts my credit card (not an easy task).  Then, I plan on paying the entire monthly rent on my credit card, while receiving my roommates' monthly checks at the beginning of each month…earning myself extra interest and an exuberant amount of points.
Arbitrage is fun.
(photo by colros)
Get Your FREE Ebook
DINKS (Dual Income No Kids) Finance focuses on personal finance for couples. While by no means financial experts, we strive to provide readers with new, innovative ways of thinking about finance. Sign up now to get our ebook, "Making Money Tips for Couples" FREE.