Check Out Liz Ann Sonders
Check Out Liz Ann Sonders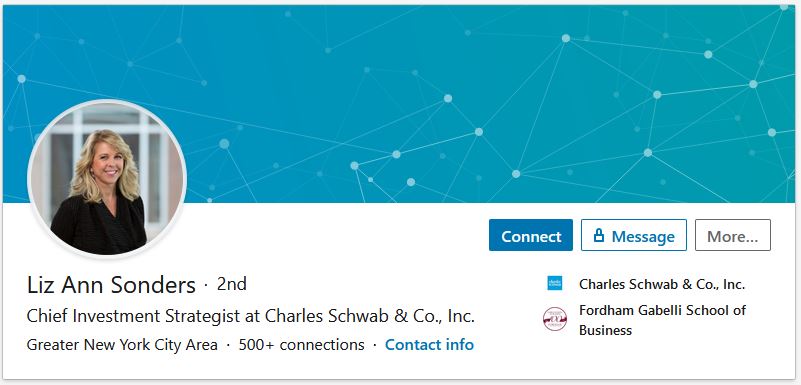 File this posting under: people worth knowing about.
There is so much noise in the investing community it is often hard to find good information.   Good sources get drowned out.  A notable exception to the crowd is Liz Ann Sonders.
In case you haven't heard of Sonders, she is a Chief Investment Strategist at Charles Schwab & Co., Inc.
From Schwab:
Liz Ann Sonders has a range of investment strategy responsibilities including U.S. market and economic analysis, and asset allocation recommendations for individual, corporate, and institutional investors. She is a contributor to Schwab's advice publications and videos, and a keynote speaker at many Schwab client and corporate events. Liz Ann makes regular TV appearances on CNBC, Bloomberg TV, and Fox Business News, and is regularly quoted in publications such as The Wall Street Journal, Barron's, and The New York Times.
(Source here).
In particular Sonders' twitter account is worth following.  The account is non-political and highly relevant for investors. Sonders tends to avoid discussions of individual stocks, and instead focuses on sectors or the broader market as a whole.  Another great thing about her is she's been consistently good for a long time.  I first started following her in 2007 and have found her work to be steadily helpful.
Her twitter account is here.
Her Schwab articles are here.
If you're an active investor, you'll likely find her work helping in evaluating the macro economy.
About Author
James