The COVID-19 epidemic has taken over the news, but it is obscuring the fact that there is money to be made. With the CARES Act, the Federal government is dumping individual stimulus checks into the economy. So a lot of you are wondering: what should you do with your funds? Consider investing your stimulus check in the stock market, there are lots of opportunities right now.
Per the IRS, the Treasury will just send you your money.
IR-2020-61, March 30, 2020

WASHINGTON — The Treasury Department and the Internal Revenue Service today announced that distribution of economic impact payments will begin in the next three weeks and will be distributed automatically, with no action required for most people. However, some seniors and others who typically do not file returns will need to submit a simple tax return to receive the stimulus payment.
You'll only get the cash if you make less than $99,000 (filing single) and $198,000 (for joint filers).
Source: IRS.gov.
Consider Investing Your Stimulus Check In The Stock Market
Consider investing your stimulus check in the stock market. Obviously, if you need to pay your bills, have high-interest credit card debt, or don't have savings, do those first. If you have your basics considered and have time to let your money work, consider the stock market.
The absolute best time to buy stocks is when valuations on good companies are very low – which they are now. To test this, I ran a screener in Schwab.com, a full-service brokerage I use. I adjusted the screener so that it showed only companies that had inexpensive valuations and assets in their balance sheet.
The settings are: a debt to equity ratio of less than 1, a quick ratio of less than 1, and price to book ratio of less than 1.
Here is the first page of the Schwab results.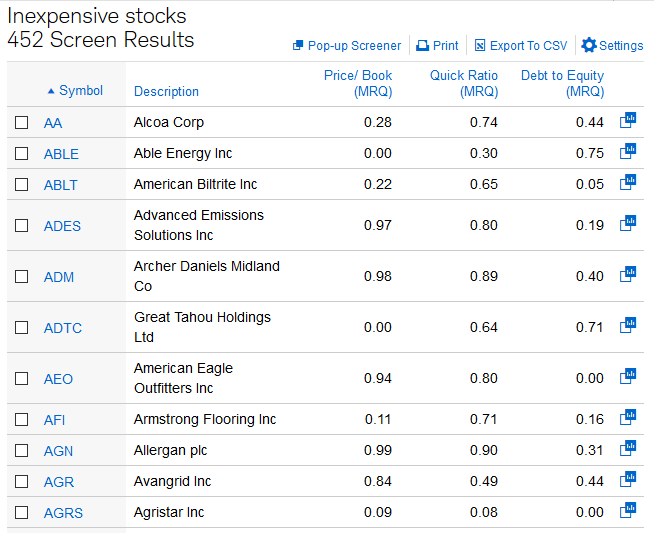 Out of the 7,244 domestic companies trading in Schwab, 452 fit the criteria. This means there are plenty of opportunities in the market right now.
Here is the take away: you'll have a check coming from the treasury.  If your basics are covered, there are lots of great opportunities in the stock market right now.
For more excellent Dinksfinance articles, read these:
Getting Ahead on $600 Per Month
The Pros and Cons of Investing In Mutual Funds