Life insurance is a confusing subject for most people. From trying to get a policy that fully covers you to understanding what needs coverage, getting insurance can be daunting.
Enter: Bestow life insurance, the latest fintech insurance provider to emerge on the scene.

Bestow was founded in 2016 by entrepreneurs Jonathan Abelmann and Melbourne O'Banion with the idea of improving access to insurance for underserved communities. Bestow's business model is basically to efficiently connect insurance buyers and insurance sellers. Bestow's great advantage over brick and mortar companies is that it makes the application process extremely easy by leveraging big data to offer almost instant coverage to those who qualify. Applicants answer questions on Bestow's website, which uses heavy-duty data and math to make an automated decision on prices and policies. Bestow operates in all states except New York.
What does Bestow offer?
In a nutshell:
Competitive policies from $50,000 to $1,000,000
Excellent customer service
Quick coverage decisions
No medical exam
No cancellation fees
Bestow is new to the life insurance marketplace. It is a simple online platform that gets people quality, non-medical life insurance coverage faster than ever before. Its policies are issued by The North American Company for Life and Health Insurance™. North American has an Excellent (A+) rating for financial strength and a lower than average complaint rating from the National Association of Insurance Commissioners.
Bestow life insurance offers only term policies – not whole life. Offering both long and short-term policies. Of course, the cost of the insurance varies based upon a variety of different factors including age, smoking status, and state of residency. Keep in mind that the amount of coverage you want also affects the price you pay for the premiums offered.
Its short-term policies can go up to $500,000 of coverage. Its long-term policies, on the other hand, can cover up to $1,000,000 of loss. Even though it does not require a medical exam, applicants must be between 21 and 55 of age to apply for coverage. Men who smoke tobacco are only eligible to apply up to age 43. It is also worth mentioning that there is no cancellation policy.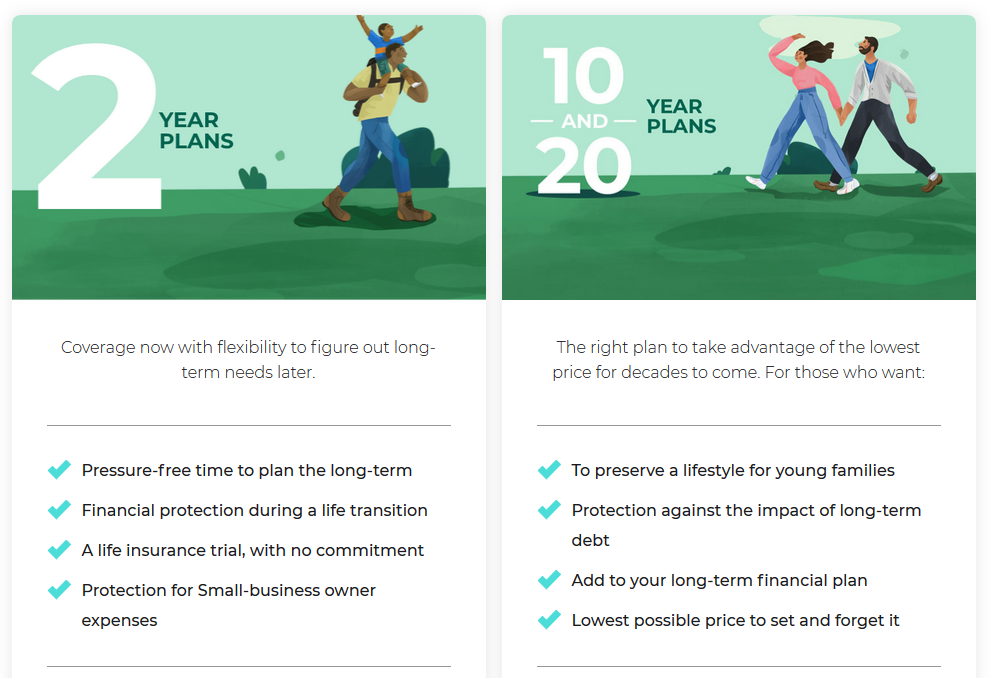 Here is a summary of what the internet is saying about the company:
Advantages
The policies Bestow sells are reputable. The North American Company for Life and Health Insurance™ has been around since 1886 and has an A+ from Standard & Poor's.
It's super easy to apply.
The underwriting decisions are fast. Application takes a while, and you need to provide basic information about yourself as well as personally identifying information (such as your social security number). You'd also need to enter your beneficiary information as well as your payment details. Once you have the application done, it's a fast decision.
Disadvantages
Bestow only works with one company to issue policies. You don't get the benefit of companies competing for your business.
Age restrictions, you can't be older than 55.
Don't have coverage flexibility: riders or supplemental policies aren't supported
It only has term policies and all its policies expire by the time you're 65
You can be rejected based on health factors
An Honest Review Of Bestow Insurance
Reputation

East of Application

Underwriting Decision

Price

Customer Restrictions

Product Offerings
Summary
On balance, we like Bestow.  Despite limitations in their offerings, the company has managed to take a lot of the hassle out of buying insurance.  We also did not find any obvious problems with their services or offerings. We recommend it.
Is Bestow For You?
On balance, we like Bestow.
In researching this article, we called its customer service line. We can truly say that Bestow has excellent customer service. Although neither of us holds a policy through the company, its willingness to answer questions and explain its policies in detail was incredibly beneficial. It really is breaking insurance industry norms by making it an easy and quick process for applicants.
The company, has, by and large, achieved its goals. It is much easier to buy insurance through its platform than via traditional methods. However, there are some important limitations to the service.
Keep in mind that your financial plan is not complete without life insurance. This is especially true if you have dependents, lots of assets, or a business partner to cover. If that is the case for you, and you just want a basic life insurance policy without a lot of hassle, then Bestow is probably a good option.
Will Bestow Go Out Of Business?
While Bestow's business model is innovative, it is still pretty new. New companies are riskier to do business with, especially if you want a long term insurance contract. However, according to cruchbase.com, Bestow has recently secured $17.5 million in venture capital funding, so they should have some staying power.
Final Thoughts
The process of getting approved really only takes minutes. If you are looking to get new coverage or even learn more about the company, we would recommend visiting its website. It makes the process of insurance quick and painless. And although we don't have policies through the company, we will definitely keep it in consideration when we are hunting for a new policy.
As always, thank you for reading! If you have any questions or are insured through Bestow, let us know in the comments!
This article contains links from one of our advertisers. This means if you click on the link and purchase the item, we may receive a commission. We are disclosing this in accordance with the Federal Trade Commission's 16 CFR, Part 255: "Guides Concerning the Use of Endorsements and Testimonials in Advertising."