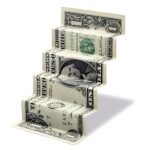 When should you sell your stocks?
Relatively speaking, there is lots of literature available on what kinds of stocks to buy, but less on when to sell your stocks. This is a shame because properly selling your stocks is just as tricky as properly picking what securities to buy.
1) Deterioration in Fundamentals: By this I mean the negative changes in the economic conditions which contribute to your company's profitability. To illustrate this with a example, lets say that you own shares in Frontline, Ltd. – a bulk shipping company (FRO). You might evaluate the current very low rate for bulk shipping as evidence that the demand for shipping has fundamentally shifted. You might then have a look at Frontline's accounting, perhaps check a couple of market reports and inform your selling decision accordingly.
2) Management Changes: Sometimes the success of extraordinary business is built on the capabilities of exceptional individuals. A great example of this is Charles Schwab, the CEO of Schwab Inc. Charles built his company from a newsletter operation with two partners in 1963. But back in 2001, Charles stepped down to retire, leaving the company's management in the hands of one of his lieutenants, David Pottruck. Pottruck unfortunately made some very bad decisions, resulting in a decline in the company's stock by 60%. Schwab himself ultimately had to come out of retirement to return the company to profitability (clicky). So, the main point here is that adverse management changes can be a reason for selling your stock.
3) Declining Profitability: When the company starts to show declining profits or increasing losses, you might consider selling. The reason for this is that the best indicator of stock market prices is earnings. This bears repeating: the best indicator of stock prices is earnings. When good earnings come out, share prices are usually increased. If earnings decline, the price tends to fall. So, declining profitability is an additional reason you might consider selling.
4) When You Need the Money: Sometimes things take priorities over your investments. For example you might need your stocks to buy a house. Other things like paying for your families' health care or bailing your best friend of out of jail may also be more important than holding an equity position. Under these limited set of circumstances it seems totally legit to sell your stock.
5) When You've Made a Profit: Thinking on this point differs. Some argue, Warren Buffet among them, that you should let your winners run. Others say you are well justified in taking a profit when your stocks have appreciated. The reasoning behind selling when after you've made a profit is that all gains are illusory until you've realized your trade. That is, stock trading is all just letters and numbers until you have the cash in your account.
6) Portfolio Rebalancing: Conventional wisdom says that as you get older your portfolio should have have a greater proportion of less risky assets. So, every couple of years or so you might consider unloading your stocks and replacing them with bonds.
Just to wrap this up, when you're making the sell decision is important to exercise due diligence. Look at the company's books, see what investor sentiment is, and poke around a bit to get a sense of the firm's market. Also consider if selling is right for you and your personal circumstances.
Incidentially, if you're reading this because you're interested in learning more about stocks prior to actually buying, check out Benzinga's review of online stock brokers.  Its a pretty comprehensive list, so check it out if you get a chance.